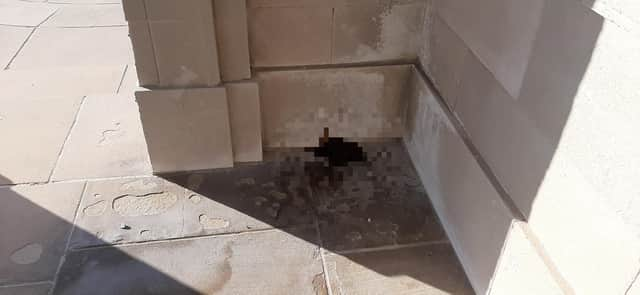 The faeces left at Portsmouth Naval Memorial ahead of the commemoration of VJ Day.
Outraged civic chiefs said the disgusting problem plaguing the Portsmouth Naval Memorial must end once and for all and have called on the city council to spend thousands on a new network of seafront CCTV cameras.
The urgent plea comes as Britain today unites to commemorate the 75th anniversary of VJ Day – the moment Japan surrendered during the Second World War, bringing almost six years of nightmarish conflict to an end.
Almost 25,000 military personnel killed during the war are honoured at the naval memorial on Southsea Common.
Portsmouth Naval Memorial on Southsea Common which has been the target of sick yobs who have used it as their own personal toilet.
The News can today reveal that despite action from Portsmouth City Council and the Commonwealth War Graves Commission to protect the site – which included patrols by security guards – hooligans were still defecating at the memorial as late as Wednesday evening.
Stephen Morgan, Labour's shadow armed forces minister and Portsmouth South MP, was disgusted by the revelation.
A window which has had its frame ripped out at the naval memorial.
'The fact that, in the lead to a major commemorative day, our naval memorial has been desecrated again, is an outrage,' he said.
'We must now see a full and thorough investigation into these ongoing incidents and urgent action by authorities.
'This is not the first time this has happened, but it must be the last.'
Vandals are also reported smashed window frames of buildings surrounding the main monument, with debris still scattered across the site last night.
Broken parts of the naval memorial photoed on Friday evening following a spate of vandalism at the site.
Portsmouth Tory leader Councillor Donna Jones was 'appalled and saddened' by the latest scandal and branded it the 'lowest kind of public disorder'.
'More needs to be done to stop this happening again. It's a national disgrace,' she said.
'The council needs to take action now. CCTV needs to be installed and a commitment that footage will be passed to the police and people named and shamed.'
Southsea resident Nick Pellatt discovered the latest mess while walking his dog.
He said: 'It's beyond disrespectful. I've gone from rage to despair now. I'm embarrassed people in Portsmouth would do such a thing at a naval memorial.'
Nick added the latest incident came on the anniversary of his grandfather's death, who died in a tragic plane crash during the Second World War.
His relative, Flight Sergeant Fred Pellatt, had been a gunner with the Home Guard during the Battle of Britain, shooting at Nazi planes from his defensive position near Margate, Kent.
The 29-year-old then joined the RAF and trained as a bomb aimer in Canada. He and his crew were just weeks away from being declared operational when their Avro Anson 'fell apart in the sky', at 3.05pm on August 14, 1943, killing all six crew members.
'What's happening is a disgrace and the people responsible should be ashamed of themselves,' Nick added.
Councillor Steve Pitt, deputy leader of Portsmouth City Council and the island's culture boss, was 'frustrated' by the problem and said the authority was eager to bring those responsible to justice.
'We've had long-term aspirations to improve CCTV coverage around the seafront. Unfortunately, in order to do that we need some infrastructure in place,' he said.
'An early look to try and do that this year had to be put on the back-burner because of Covid-19. But we will revisit it next year if the coronavirus situation changes and allows us to do so.'
A message from the Editor, Mark Waldron
Thank you for reading this story. The dramatic events of 2020 are having a major impact on our advertisers and thus our revenues.
The News is more reliant than ever on you taking out a digital subscription to support our journalism.
Every subscription helps us continue providing trusted, local journalism and campaign on your behalf for our city.