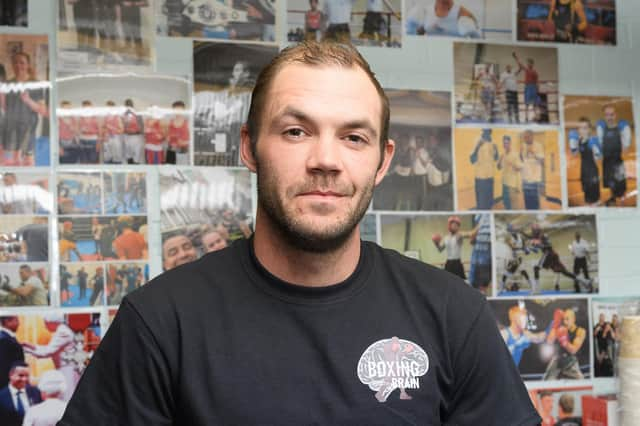 Army veteran Warren Avery joined Boxing for the Brain at the Heart of Portsmouth boxing club, which he said has helped him transform his life. Picture: Keith Woodland (120420-216)
Warren Avery's life spiralled out of control after he was discharged from the 2nd Battalion the Royal Regiment of Fusiliers in 2009.
Aged just 19 and a new dad, Warren soon found himself flitting from the streets to a jail cell before turning to drugs to find some solace.
After a decade of struggle, Warren finally issued a plea for help, turning to Eastney-based forces charity, Forgotten Veterans UK.
Pictured is: Quinton "Q" Shillingford instructs Warren Avery, the club's first student to pass all his exams. Picture: Keith Woodland (120420-9)
'As a veteran I just cried to them one day and said, "look I need help, I'm going to die out there if I don't get it",' he said.
After two weeks with the charity, he was introduced to the team behind Boxing for the Brain during a session at Fort Cumberland – a moment which he said helped him to finally get his life back on track.
'It's been a hard effort. But this has definitely kept me motivated more to stay off drugs and to keep fighting,' added Warren, who became the scheme's first student when it began last year, just before the first coronavirus lockdown. 'I didn't really see a light at the end of the tunnel.
'But I set myself a mission to sort my life out by the time I was 30. I was 30 in 2020 and I have been clean off drugs now since 2019.'
Warren now has a new goal – getting a permanent home to call his own and to finally spend quality time with his three young children.
The former infantryman said: 'The worst thing is knowing that I'm not seeing my children. That was the killer. I was always degrading myself being on drugs. I hated every time that I had any drug. It's been a fight to say "I'm going to get off the streets to see my children".
'No child deserves to see their father on the street. My focus is on getting my kids back. That would feel like winning the lottery.'
A message from the Editor, Mark Waldron