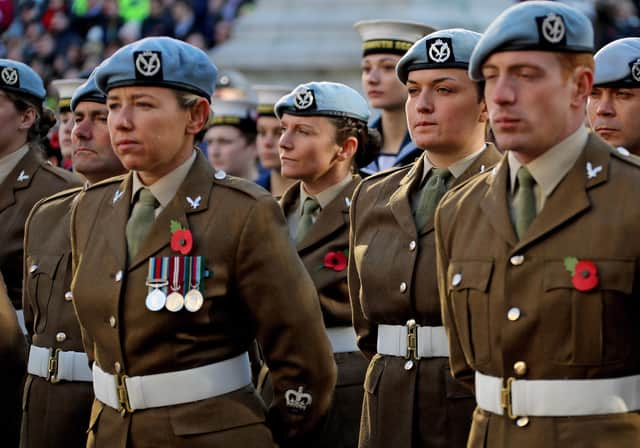 Military personnel pictured during a Remembrance parade in Portsmouth. Photo: LPhot Dave Jenkins
The plea comes as the Armed Forces Bill – legislation designed to improve life for military personnel – makes its way through parliament.
A cross-party select committee has launched a survey seeking views on the law reform to inform the committee's inquiry.
Among other things, the bill proposes a legal responsibility for public bodies to give 'due regard' to the principles of the Armed Forces Covenant when accessing public services such as housing, healthcare and education.
Tory defence secretary Ben Wallace said the legal overhaul would 'break new ground', ensuring the nation lived up to the principles of the covenant and treating all UK military personnel, veterans and their families 'with fairness'.
But Labour has criticised the bill for being too weak, and that proposals would do little to correct the many ways in which service personnel are disadvantaged.
Stephen Morgan Labour's shadow armed forces minister who is leading on the party's response to the reform, said: 'With this bill the government risks creating a two-tier covenant and a race to the bottom on services for our forces communities across the country.
'But it also fails to deliver urgent service justice reforms to improve the number of cases tried related to the most serious of crimes, such as murder, rape and sexual offences.
'It's critical that the Armed Forces Bill select committee get the clearest understanding of what people connected to armed services see as a priority and the best way to do that is by responding to this survey.
'I encourage Portsmouth people to speak loud and clearly to government in how life can be improved for service personnel, veterans and their families by completing this important survey.'
The deadline for responses to the survey is Monday, April 5 at 5 PM and takes roughly five minutes to complete. To sign the form, visit the online site here: shorturl.at/hrBEZ.
A message from the Editor, Mark Waldron
The News is more reliant than ever on you taking out a digital subscription to support our journalism.
You can subscribe here for unlimited access to Portsmouth news online - as well as our new Puzzles section.