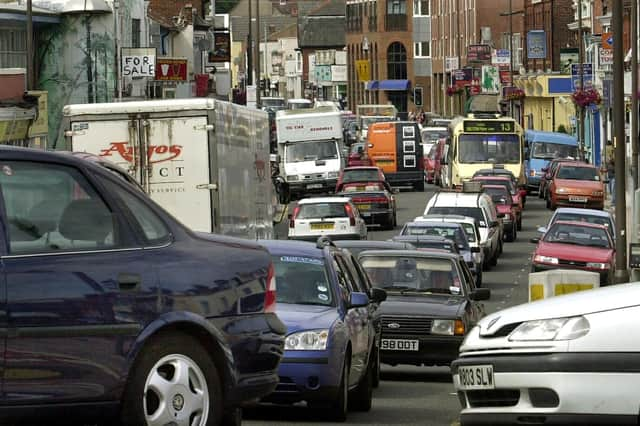 SOUNDSCAPE: The noise from Fratton Road has made Matt feel at home
Now, before you start throwing things at me, let me explain.
It was actually nothing to do with the city itself; it was the situation that resulted in me arriving in Portsmouth that was making me hold it at arm's length.
You see, in April 2018 I was made redundant from my previous job – a moment which was traumatic to say the least and one that has scarred me.
• Miss Matt's column last week? Click here and it should appear
After a few weeks of frantically applying for jobs and a few failed interviews – I'm still waiting to hear back from one newspaper, so I don't think I got that job – The News decided to take a chance on me.
But this meant moving down to the south coast, hundreds of miles from my family and friends and start over in a city I barely knew.
Growing up I'd heard of Portsmouth of course, mostly because we signed Yakubu from them.
Oh and that they were sponsored by the company who made Beanie Babies – isn't the hippocampus such a marvellously strange thing when it comes to storing utterly pointless facts.
But to me this city now represented failure, it was a place I was only living in because I had fallen to the bottom of a matrix and been given the boot.
So I didn't want to warm up to its charms – of which there are many: the seafront, Southsea, Old Portsmouth and Gunwharf to name a few.
Yet fast forward two years and now I am happy to call this city home.
So what changed? Well, firstly I began to accept that redundancy wasn't a personal attack on the quality of my work or my character.
Then, as my resentment thawed, I found myself enjoying the charms of the city sounds drifting in from my bedroom overlooking Fratton Road. The vehicles, the snippets of conversation and even the drunken rows.
Taking trips to pubs like the One Eyed Dog or Brewhouse and Kitchen or visiting any of the many wonderful restaurants with my housemates, who have become friends.
But I think the first time I realised Portsmouth felt like home was walking through the city centre lit up by festive lights.
Peering through the transfer window looking for next fix
It's been just a fortnight since the transfer window opened and that old addiction has returned.
I'm refreshing news feeds in a feverish state looking for my next fix. I'm desperate for the dopamine rush that comes from the latest player being linked to my club.
Much like everything else in 2020, the transfer window was pushed back and I swore I wouldn't fall for the hype – yet like Groundhog Day here we go again.
It's idiotic since 90 per cent of the links turn out to be just media talk. And once a player actually signs, you turn desperately to the next tentative rumour.
But it does give me and my friends back home something new to talk about instead of the virus.​​​​​​​
I've reached the age where I finally understand nostalgia
The recent wave of TV shows and films centred on nostalgia for the 1980s has mostly left me bemused.
I dont' get what the fascination is. It's not like great films haven't been made in the years since ET and Goonies – just look at Lord of the Rings and Harry Potter.
But as I stare down my 27th birthday a few weeks from now and try to wrap my head around the fact that 2000 was 20 years ago, I think I finally get it.
Memories of long summer days trying to do tricks on my scooter at the skate park – I kept falling off skateboards – or aimlessly riding on my bike with my friends.
The feeling was warm, fuzzy and comforting. So bring on all the 00s' nostalgia.
• A message from the editor, Mark Waldron.
Thank you for reading this story. The dramatic events of 2020 are having a major impact on our advertisers and thus our revenues.
The News is more reliant than ever on you taking out a digital subscription to support our journalism. You can subscribe here for unlimited access to Portsmouth news and information online.
Every subscription helps us continue providing trusted, local journalism and campaign on your behalf for our city.