How will Britain cope with the rest of Europe easing lockdown? | Annie Lewis
Although Boris Johnson eased lockdown restrictions in England on May 10, our beloved bars, pubs, churches and other social spaces remain closed until at least July – but possibly longer.
Tuesday, 19th May 2020, 5:28 pm
Updated
Tuesday, 19th May 2020, 6:04 pm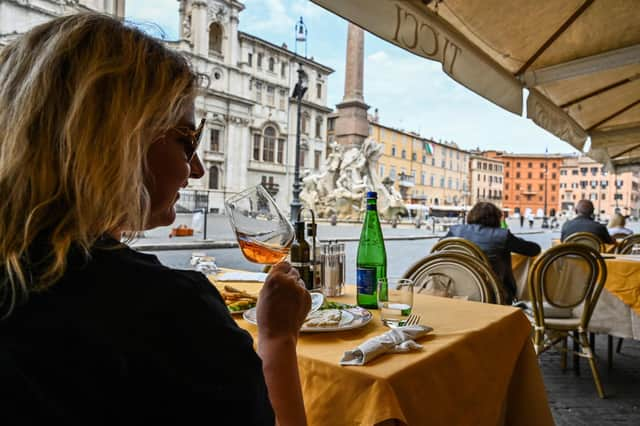 A woman drinks wine and has lunch at a restaurant's terrace on Piazza Navona in central Rome on May 18, 2020 during the country's lockdown aimed at curbing the spread of the COVID-19 infection. (Photo by ANDREAS SOLARO/AFP via Getty Images)
While we're supposed to stay in our own homes, towns and counties, England's lockdown restrictions will only seem crueller as some European countries start to slowly return to normal life while we're left in the shadows.
Italy – once the worst affected country in Europe who we gawped at until we surpassed their death toll – announced restaurants, bars, cafes, hairdressers and shops can reopen this week, providing social distancing is enforced. While in some areas of Spain, cinemas, museums and theatres are allowed to open at a reduced capacity.
The British public were told repeatedly in March that without serious measures, our death toll and situation was two weeks behind Italy's. But that's no longer the case. We're the worst affected country in Europe, so seeing our foreign friends relax restrictions is going to be a problem for our government who are desperately trying to keep a lid on restlessness.
Everyone knows someone's sister's brother's friend's cousin had a barbecue with more than two people outside of their household at the weekend. You don't have to look very far, either on social media or the news, to see people flouting the rules.
Look at the street of people doing the conga in Warrington for VE Day, for example. A reporter on the news the other day spoke to a woman who had travelled an hour-and-a-half to the beach who was utterly outraged at the number of people there. Some people fail to see they're part of the problem.
It's fair to say that our government have a task ahead of them in keeping the death rate low, but that's made much harder by people openly disregarding the measures put in place.
If our lockdown is not eased further in July, will there be social unrest? Who do we have to blame, ourselves?
We may be pleasantly surprised and be able to skip – while socially-distancing – to the pub for a pint in July. But that depends on how we act now.
Pandemic does not interrupt terrorists and awful attacks
Last week, I saw a tweet from a reporter about the Afghanistan hospital attack on May 12.
I dug further on Twitter.
To my horror, I discovered the haunting story of how terrorists had entered the maternity ward at Dasht-e-Barchi hospital, Kabul, and killed mothers, newborn babies and nurses.
I switched to several national news websites to find out more information. Nothing.
The attack had happened 18 hours previously.
Why wasn't this leading the news agenda around the world?
For all the devastation Covid-19 has visited upon us, many countries live in daily fear of horrors even worse than the virus.
Shouldn't PPE stocks go to the NHS, not football clubs?
The Premier League have launched Project Restart which will attempt to resume the football season which was halted at the beginning of March.
In a seven-page document drawn up by Premier League director of football, Richard Garlick, it suggests players may wear face masks and footballs will be disinfected by workers dressed in PPE. The Premier League will have to buy its own PPE and face masks to ensure these measures are met.
However, when our NHS is suffering such a lack of PPE, you have to ask if it is necessary for the Premier League to take away valuable stocks in order for football matches to go ahead?
Could we not wait a little longer for football to resume?