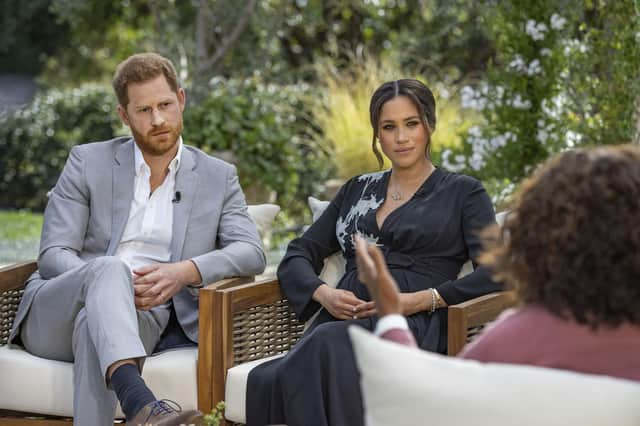 Prince Harry and Meghan, Duchess of Sussex, in conversation with Oprah Winfrey. Picture: Joe Pugliese/Harpo Productions via AP
The two-hour long 'Oprah with Meghan and Harry: A Primetime Special' aired in America during the early hours of the morning in the UK.
The interview sees the Duke and Duchess of Sussex claim that 'concerns and conversations' were had within the Royal family regarding the skin colour of the couple's then-unborn child, Archie.
Prince Harry also reveals that his father, Prince Charles, had stopped taking his phone calls.
Aston Campbell with her daughter Raire Ramsay
Residents across Havant have had their say on the interview, with many concerned about the long term damage it could have on the Royal family.
Aston Campbell, 30, from Havant, said: 'I am a fan of the Royal family – but this doesn't fill me with hope for its future.
'I don't think people will care about them as much in the future.'
Ann Lennon, 53, from Havant.
Marion Bowyer, from West Leigh, agreed and said the revelations have 'opened up a can of worms' for the monarchy to deal with.
The 70-year-old said: 'I plan to watch it tonight. I have seen a few clips. I don't mind the Royal family, and it will be interesting to see what they say. It's interesting – you don't need to be obsessed to find it interesting.'
But not everyone understands the amount of interest shown towards the 'strange' people who make up the Royal household – with Roger Cobbett from Hayling Island, saying: 'I'm sick to death of it.
'They are strange people – but that's what immense wealth does to people.'
Marion Bowyer, 70, from Havant.
Gosport resident Maureen Longstaff said the situation was 'very toxic' for all involved.
The 84-year-old said: 'To be honest I'm not comfortable with even thinking about it. The whole situation is very toxic, on all sides, and the more we talk about it the worse it gets.'
Others questioned the couple's claim that they valued their privacy given their candid, televised interview.
Jenny Blacksmith, 77, from Gosport, said: 'It's not really any of our business what they do, but perhaps if you want to get away from the media you shouldn't spend so much time putting yourself in the spotlight.'
Ann Lennon, 53, from Havant, agreed: 'I take everything I read about them with a pinch of salt.
'But I think if they wanted privacy they should have gone about it in a different way.
'And the whole family is like a house of cards – this could really damage them.'
A message from the Editor, Mark Waldron
You can subscribe here for unlimited access to Portsmouth news online - as well as fewer adverts, access to our digital edition and mobile app.
Our trial offer starts at just £2 a month for the first two months.