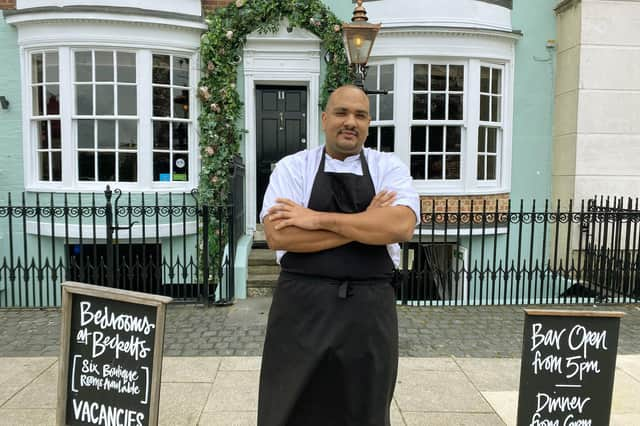 Jack Sencherey-Evans, head chef at Becketts, Southsea.
Now the head chef at popular restaurant Becketts, Southsea, Jack is bringing his diverse expertise to the Bellevue Terrace tables and is celebrating one year at the contemporary establishment.
Jack, 31, says: 'It was a very big deal for me to come to the island. I grew up and started my career in Portsmouth so it's been amazing to work at one of the city's best restaurants.
'My cooking style is a reflection of all the places I have been, from Africa to Scandinavia.'
Jack Sencherey-Evans working at Noma, Denmark, in February 2017. Picture: Contributed.
Jack was born in north London and spent most of his childhood between his mum's house in Twickenham and his dad's home in Portsmouth.
He explains: 'My dad lived in the city. He was a sailor and my mum was a chef.
'I spent lots of holidays at the south coast with him.
'I have known Portsmouth for ages, even before Gunwharf was built.'
The lamb rump, peas, courgette pressing, mash, autumn herbs at Becketts, Southsea.
But when he was just 18, his mum lost her house which made him homeless. Sleeping on the streets of London, Jack admits life was tough and he felt lost before he found his calling in cooking.
'I got into cheffing by accident really,' says Jack, laughing.
'While I was homeless, I started working in a café which used to serve food to QPR supporters. I started living at the café too and realised I needed to move on and plan my future.
'I moved down to the south coast with my dad. I looked at college courses and it was a toss up between cooking and mechanics. I had already trained in multimedia.
'I went to Highbury for three years to study cookery from 2009-2011 and got my first job as a pastry chef at A Bar Bistro. That was the beginning of my culinary career.'
From his first gig at the Old Portsmouth restaurant in 2011, Jack says the following decade has been a 'whirlwind' for him and his career.
He says: 'From the ages of 19-22, my life was pretty crazy. I went from being homeless on the streets of London to working in good restaurants.
'When I look back, I don't really know how I did it.
Moving on from A Bar Bistro, Jack got his next job at Bistro Montparnasse, Southsea, as a pastry and sous-chef and worked there for three years.
After working the long hours in restaurants, Jack launched a new venture in the form of his American slow-barbecue street-food business in 2016.
'I started up my own street-food business, focusing on brisket and slow-cooked meats,' explains Jack.
'It's such an honest way of cooking because the customer is right in front of you and can watch what you're doing.
'I fell in love with cooking on natural fires and using different woods to create flavours. However that stopped because the work was so seasonal.'
Having a flavour for different cooking techniques, Jack packed his bag and travelled to Ghana in 2017 after a one-year stint as a chef at Three Choirs Vineyard, Wickham.
Going back to his 'roots', Jack's two-month stay in west Africa is an experience he looks back on fondly.
He explains: 'My mum is from Ghana so it was great to go back to my roots and explore the culture and west-African cooking.
'The people I met were so understanding of their environment and what's around them, more so than what we are like in the UK.
'It was extremely humbling too. On one street corner you see a £20-million building and then down the road, whole families are living in slums.
'It was a very special journey for me.'
Leaving Africa behind, Jack jetted off to Denmark to a job that many chefs can only dream of.
He landed an apprenticeship at Noma – a two-Michelin-star restaurant run by chef René Redzepi in Copenhagen which was ranked the Best Restaurant in the World by Restaurant magazine in 2010, 2011, 2012 and 2014.
'In 2019, it was ranked second best in the world,' adds Jack.
'I started working there as what would be considered an apprentice. I had spent a long time cheffing but this tested how good I really was.
'Customers would spend £350 on 12 courses and then on top of that, around £200 on drinks.
'It planted an appreciation for how Michelin-star restaurants function but also how extremely hard the team works behind the scenes.
'I was working with an array of amazing chefs and staff.
'They closed that restaurant to open another one in Mexico for three months and invited me to go along. But I had family commitments so came back to the UK.
'Noma showed me that I was quite stagnant in my cooking techniques and they taught me all about natural fire cooking and fermentation.
'It definitely added a few more strings to my bow.'
Back in the UK, Jack became the head chef at the Ovation Restaurant at Mayflower Theatre, Southampton, serving 'B-list celebrities from Kat Slater to the Chuckle Brothers'.
Jack says: 'It was an amazing opportunity to run the restaurant at the biggest theatre on the south coast. We won a Great Taste Award.'
Before moving into the kitchen at Becketts, Jack experienced another Michelin-star restaurant but this time in London at The Clove Club.
So with plenty of gastronomical experience under his belt, Jack joined the team at Southsea last year, working closely with the owners to redesign the menu and watch the kitchen undergo a £40,000 refurbishment.
He says, smiling: 'I could see the amount of passion they had for this place.
'At Becketts, we aim to build a delicious accessible menu of classic European dishes with a modern twist. We cook using natural fires and believe this combination of old-world cooking practices meeting modern cooking techniques sets our style apart from other offerings in the city.
'It has been a whirlwind year, but it has been amazing. We're trying to create a very special venue and create a place where people can come to create memories. At a time like this when people are a bit low, it's been really nice to see people come back to the restaurant and back to some sort of normal.'
For more information about Becketts, to view their menu or book a table, go to beckettssouthsea.co.uk or call (023) 9286 5000.