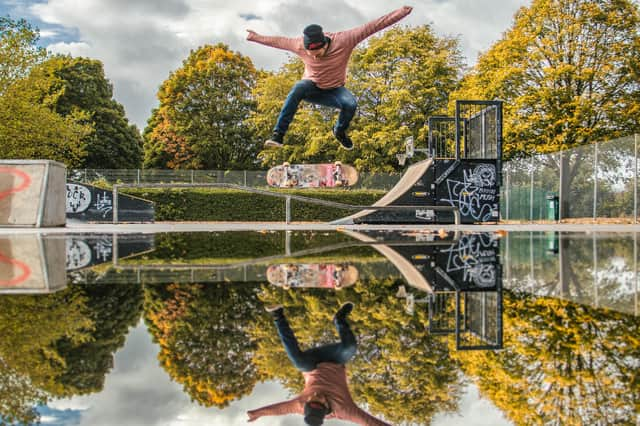 Jacob Skinner performs a heel-flip at Milton skatepark. Picture by Paul Scott/@oldskoolpaul
A couple of years ago Jacob was skating with friends at Milton Skatepark in Portsmouth when a young lad with Down syndrome and his carer turned up.
Jacob went over and helped the boy, who was totally enthralled by the more experienced skaters.
'By the end of it he was so hyped he was speaking to me in Makaton,' recalls Jacob, 'and after he left the others were like, "You've got a gift there" – to be able to transpose that enthusiasm and share it with someone.
Jacob Skinner of the Portsmouth Skate Academy teaches a couple of his students on Clarence Esplanade, Southsea
'About a minute later, this little kid runs back up, kisses me on the belly, and runs out of the skatepark. I was blown away by this.
'I got in my car and cried my eyes out – that's what really inspired me to move it on.'
It was the catalyst for Jacob, from Southsea, to set up the Portsmouth Skate Academy. He now has 14 pupils ranging 'from the youngest who's nine, to a woman who's 34 and a guy who's 37 and comes and does it with his kids.' Lessons take place in small groups or one-to-one sessions at skateparks across the city or down on Clarence Esplanade.
The hobby and sport began in the 1940s in California when surfers wanted to do something land-based while they were unable to take to the water. Now there are skateparks all over the world and it's a multi-billion industry – skateboarding is even due to make its Olympic debut in Tokyo.
Sam Greest, from Gosport, performs a varial heelflip. Picture by Paul Scott/@oldskoolpaul
And here, in Southsea, we have one of the world's longest-running skateparks – it celebrated its 40th anniversary in 2018.
Jacob says: 'It's a really nice thing to share skateboarding. For a long time I think it was seen as very anti-establishment, and there's still an older generation who thinks like that , but little do they know it's in the Olympics next year and the industry is growing every day.'
The 30-year-old began skating when he was 12 and he says: 'The skateboard community is beautiful, it's really close-knit family and everyone's really welcoming. I grew up in Gosport and the skatepark was a scary place to be back then, people weren't very nice. It's stepped away from that, and everyone's really nice now.'
Yasmine Osborne's nine-year-old son, another Jacob, started lessons with the academy when lockdown restrictions first lifted.
'He was bought vouchers for his birthday, and it's brought such a positive spin to our lockdown experience,' says Yasmine, from Copnor. 'After quite a lot of months of staying in, homeschooling, and pulling our hair out, it was awesome to go out do something physical
'And that was so enjoyable and fun – and it has sparked a real love of skating in him, and drawn him away from some of those more insular activities that nine-year-old boys like, like gaming, which I'm not that fond of.
'Jacob's wonderful with my son and very engaging – he's very personable.'
She adds that her son now wants to eventually teach skating himself, and has embraced, and been embraced by the skating community. 'My Jacob now opts to go out and skate and he loves it – and that's not from me pushing him to do it, which as a parent is marvellous.'
But Jacob's ambitions don't end with the academy – he's also working on the Undercover Skatepark Project (USP), which aims to create a brand new all-weather park.
'We don't want to take away from Southsea Skatepark.
'If you'll pardon the pun, we want this to be skate of the art, and there's nowhere to go in the winter or when it rains.
'We want it to be more than a skatepark, we want it to be a community hub – people can come and hang out and learn, and there'll be a cafe and all sorts of bits and bobs.
'Initially we had a meeting with (former council leader) Donna Jones back in 2018, and at first we were going to build it under Rudmore Roundabout – like industrial upcycling – but there was a load of red tape to do with air quality and access.
'Then we moved onto plan B, and I was in talks with the lido, which didn't work out.
'As we speak though, there's a spot of land which is earmarked for us, and I don't want to say where it is because it's not set in stone yet. It's looking really positive though, and hopefully, soon we'll be able to say we've got this location signed off.'
But with the cost of the new park expecting to run into the hundreds of thousands, these are still early days, but Jacob's optimistic.
'There's lots of lottery funding available, and Sport England and things like that, and I've done a lot of provisional work for when it comes to that point and we're ready to apply. And we've also gone to the council because to do it privately would cost a bomb.'
Jacob also intends to expand the skate school, with his friend Jak Tonge ultimately heading it up at the USP.
'He's a professional skateboarder and has won all sorts of competitions, he's fantastic,' adds Jacob.
Councillor Steve Pitt, in charge of culture, leisure and economic development at Portsmouth City Council says: 'The struggle has been finding the right site, but we're optimistic we might have found somewhere. We've had initial conversations with the ward councillors who are supportive, and we're hoping to be able to announce something in a few weeks.
'We would love the project to go for it because we want more positive activities for young people to engage with.
'If we are in a position to help them, that's what we will do.'
Next weekend a group of skaters will make their way more than 50 miles to raise money for the Undercover Skate Project and The Ben Raemers Foundation.
On September 26, they'll set out from The Level, Brighton, finishing the next day at Croxton's Kitchen and Tap House, Southsea. They plan to stop off at several skateparks en route.
The team for the event, dubbed The Skate Escape, include Jak Tonge, Jacob Skinner, Isaac Miller, Paul Clilverd, Sam Greest and Joe Porter. It is sponsored by Bored of Southsea, Wooden Wife Skateboards, Croxton' s and Sea Dog Print Studio, while Matt Howarth of the I Love Dust collective has done its artwork.
'Everyone's chipped in and got involved,' says Jacob.
Ben Raemers was a professional skateboarder from Essex who was described as 'one of the greatest British skateboarders ever'. Ben took his own life aged 28 in May 2019.
'I met him for the first time at Southsea Skate Park when I was 14, and he was this tiny little guy, but he was just magical on the board.
'I wouldn't say we knew each other well, but we'd say "Hi" when we saw each other, and I'd see him through the years at different things and events. It was really tragic and very sad and it really sent shock waves through the skateboard world, so we want to raise awareness for them.
'Mental well-being is such an important thing, but it often gets overlooked because you can't see it. We all have those moments, don't we?'
Raising money to expand the skate academy
The Portsmouth Skate Academy is currently fundraising after it was picked to take part in online fundraising site Crowdfunder's Projects That Matter scheme, in conjunction with Shaping Portsmouth and Portsmouth City Council.
The scheme gives them access to matched funding, and at the time of writing, they were close to their £2,000 target.
'That money will help us out a huge amount – it will help us expand and pay for new instructors and new equipment, like pads, boards and ramps, ' says Jacob. 'The more we raise, the more they'll match, so the better we do.
'We want to help build a framework for everyone to get involved. It's not just about learning a physical skill, it's about being creative too.'