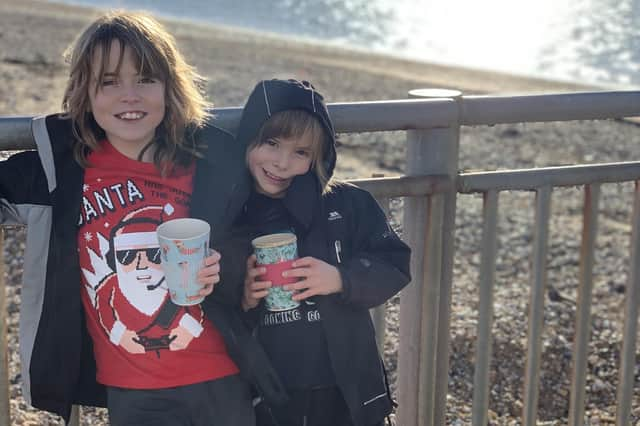 Charlie and Sidney Fuller are walking 260,000 steps in March to raise funds for the Alzheimer's Society
Nine-year-old Charlie Fuller and younger brother Sidney, seven, are keeping a close eye on their step count as they aim to complete 260,000 steps this month.
The pair from Milton were inspired by their parents' upcoming 26-mile trek at Stonehenge, and wanted to take on their own endurance challenge.
Raising money for Alzheimer's Society, Charlie and Sidney hope to raise £260 and are already halfway towards their total thanks to the kindness of family and friends.
Charlie and Sidney Fuller are walking 260,000 steps in March to raise funds for the Alzheimer's Society
Sidney said: 'We wanted to do it so we can help people with Alzheimer's.'
Brother Charlie added: 'We need to raise money and help them. We need to help my mum and dad to raise money for their trek. It's going to be hard, but it will probably be possible.'
Mum and dad Luke and Jenna Fuller are cheering the pair on throughout the month, as they gear up to take on their own challenge in October for the charity.
Jenna said: 'It's a charity close to my heart because my stepdad died from early onset Alzheimer's a few years ago.'
Having taken on charity runs and cake sales in the past, this trek is their latest effort to help raise funds.
They have been taking on practice walks to prepare for the marathon-length route, which they anticipate will take about nine hours.
When Charlie and Sidney heard how far this event was, they felt inspired to design their own challenge and support the charity.
The boys feel confident they can challenge themselves to do their 260,000 steps in March and Sidney said using his scooter still counts.
They wanted to contribute to the same cause as their parents by helping to raise the minimum sponsorship needed for the Stonehenge event.
They have achieved more than 10,000 steps each day in March so far between them, and are well on their way to reaching their target of 260,000 steps by the end of the month.
A message from the Editor, Mark Waldron
Our trial offer starts at just £2 a month for the first two months.