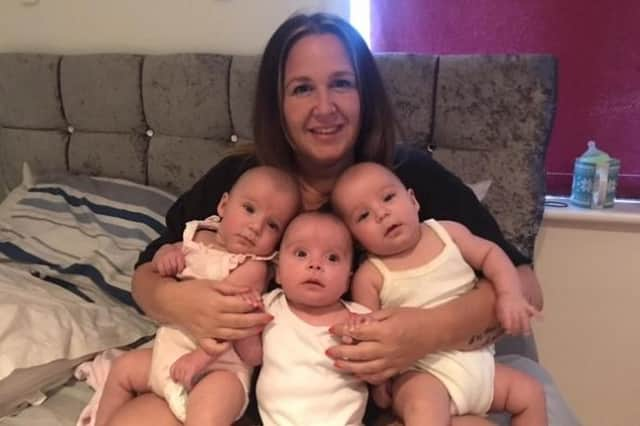 Kimberly Robb is thanking Baby Basics Portsmouth for helping when her triplets were born. Pictured: Kimberly with triplets Elsie, Emmy and Addison
Kimberly, from Portsmouth, has thanked Baby Basics Portsmouth for supporting the mum-of-five through the first year of her babies' lives.
After struggling to get pregnant and considering fertility treatment, 38-year-old Kimberly was shocked to find she had naturally fallen pregnant with triplets Elsie, Emmy and Addison.
Kimberly, who already had 17-year-old Owen and 10-year-old Tilly, said: 'I wasn't very well, I was bleeding a lot and that's when I found out I had the three. It was just a whirlwind from there. I panicked about what we would do for money.
Kimberly, right, with Tilly, 10, Owen, 17, and one-year-old triplets Elsie, Emmy and Addison
'We're just a normal family this has happened to, and it is a miracle we have got them.
'There are other families like me that do go to work and do struggle because something's happened in their life that they can't help.'
One-year-old triplets Elsie, Emmy and Addison
After the babies' birth on January 14, 2020, Baby Basics provided items including Moses baskets, nappies and more to ease the financial burden.
Kimberly, who went back to work in a hotel three months after giving birth, struggled to get milk tokens due to her income and the bill for milk alone was up to £50 per week.
The charity also helped with this expense, and grateful Kimberly has given back as much as she can to the organisation.
Baby Basics Portsmouth helps new parents who are struggling financially. Pictured: Nappy donations on the left, and right is a basket of goodies for a family
She said: 'I can afford my children but the charity just takes the added pressure off and makes life easier.
'It took the worry away a bit, it took the edge off so I could concentrate on the bigger bits I needed.
'As a mum you cover yourself but it just takes the extra bit of worry out of your life. Everything they donated for me I donated back.'
Diane Urquhart, who runs Baby Basics Portsmouth, has seen a huge increase in referrals over the past few months and has expanded her team to nearly 20 volunteers.
One-year-old triplets Elsie, Emmy and Addison
Diane said: 'As a church we are called to put God's love into action. I have a lot of respect for all our families that have asked for help because I know that's really hard.
'Kimberly just needed somebody as a cheerleader in her corner and some practical help. It's been quite amazing, it's been a privilege to be part of that families' life.
'I think she's a prime example of how practical support can help people get back into a good place.'
The charity is expanding to the Havant area, with a centre set to open soon, and health professionals or agencies in Havant can start making referrals from now.
A message from the Editor, Mark Waldron
Our trial offer starts at just £2 a month for the first two months.