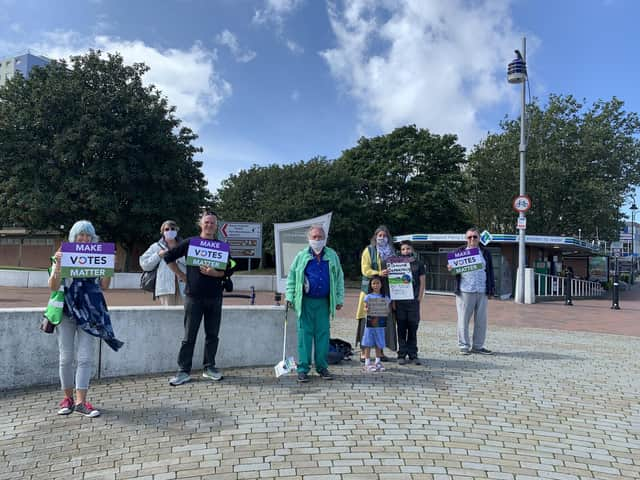 Gosport's Make Votes Matter Campaign Group demonstrate against the current First Past the Post voting system.
The Gosport Make Votes Matter supporters took part in a nationwide day of action to highlight their growing concern about the UK's current 'first past the post' voting system.
The current electoral system sees candidates elected for each constituency rather than looking at the proportional representation of the total number of votes for each party.
Local campaigner, Zoe Aspinall, said: 'For democracy to have legitimacy everybody needs to have a voice and that can only happen with a voting system that is proportional.'
The group demonstrated with placards and banners during a socially distanced rally at the Ferry terminal and Falkland memorial gardens in Gosport as well as posting campaign photos on social media.
Make Votes Matter's leader, Emma Knaggs, said: 'Our first past the post voting system means Parliament does not reflect how the UK voted. The government has a landslide majority of seats, but this is despite the Conservatives receiving less than 44 per cent of the votes.
'We need to change to a system of proportional representation so votes count equally and so governments represent the diversity of people and views in our communities and society. It's absolutely critical to people's participation and faith in democracy.'
In 2011 the UK held a referendum over changing first past the post and moving to the 'alternative vote' system, where second choices would count if no candidate got more more than 50 per cent of the vote.
It was designed to make sure the winning candidate had at least 50 per cent of the vote, and therefore more of a mandate from their constituency. It was not a full proportional representation system, however, and was defeated by 67.9 per cent to 32.1 per cent with a turnout of 19.1m people – 41 per cent of the electorate.
Anyone who would like to sign a petition calling for MPs to support proportional representation can do so via the group's website.
A message from the Editor, Mark Waldron
Thank you for reading this story. The dramatic events of 2020 are having a major impact on our advertisers and thus our revenues.
Every subscription helps us continue providing trusted, local journalism and campaign on your behalf for our city.