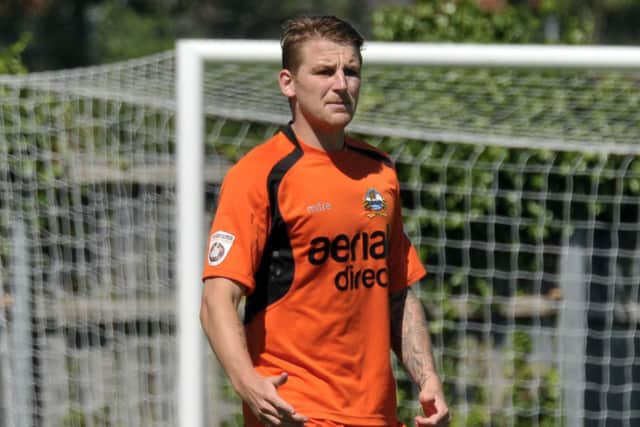 Joe Oastler during his one season at Gosport Borough in 2016/17. Picture: Mick Young
Appearing in the Championship for QPR, helping Torquay reach the League Two play-offs in two successive seasons, dropping into the non-league to feature for Aldershot, Gosport Borough and current club Oxford City - and there's the small matter of being told he might never play again at 25.
It's fair to say Oastler's professional and part-time career path has been an eventful one since leaving Fratton Park after coming to the end of a two-year scholarship.
And now he's hoping to use all those experiences to help push the next generation to reach the highest level they can in the game.
Joe Oastler is on the far left of the back row in this Pompey Academy team picture in 2007.
Through his role as head of coaching at the newly launched Havant & Waterlooville Pro:Direct Academy - formerly the Pro:Direct Academy Hampshire - and starting his own coaching business, Oastler's drive is to provide youngsters with a platform to be the best they can be.
The 30-year-old could not be better placed to understand just how hard it is to make a career out of football - and all he asks is for one thing in return.
Oastler said: 'It's what I always say now, whether they're eight or nine, 16 or 17, you've got to put the hard work in and train and practice.
'For me, that's gone out of the game a little bit, just the basics of working hard and having the attitude to do the work.
Joe Oastler, pictured playing for Torquay against Northampton's Adebayo Akinfenwa in March 2013. Photo by Pete Norton/Getty Images.
'It's what I'm trying to get across to players now, all the rest of it will improve from that really, but I think that's gone out of the game the fact you've got to work hard first and not just expect things to happen.
'I've been through it and I'm trying to tell them it won't just happen, they've got to put the work in.
'That's what I say to the lads now, 'if you do everything in your power, you work as hard as you can and train as hard as you can, if you're then 17, 18 or 19 and it hasn't worked out, at least you know you've done everything'.
'It's when you're that age and you think maybe you could have worked a bit harder. It's something always in my career, there's never a time where I've walked off a training pitch or on a match-day where I didn't give 120 per cent and that was probably why I've had a relatively successful career for my ability - I just give everything.
Joe Oastler, middle, with Matt Ritchie and Joel Ward after signing their first scholarship forms at Pompey in 2007.
'There are opportunities out there and if you put the work in you can earn yourself a living.
'It's not all about money, but if you can get paid playing a bit of football with your mates, what more do you want?'
Oastler fell into coaching after swapping full-time football at Aldershot to move to part-time Gosport in the summer of 2016.
It was during his one-season spell at Privett Park where he first met Tony Stares, who is the Havant & Waterlooville Pro:Direct Academy centre manager.
Joe Oastler, right, with Hawks boss Paul Doswell at the official launch of the new Havant & Waterlooville Pro:Direct Academy this month. Picture: Habibur Rahman
Back then, the former Boro goalkeeper - he was also chairman for a while - ran an academy through the club and Oastler took his first step into coaching.
It was from there he took up a role at the Pro:Direct Academy Hampshire - set up by Stares - and will continue as head of coaching with the academy which has moved under Hawks' umbrella and is based out of Westleigh Park.
Along with his Hawks commitments, Oastler has launched a coaching business offering one-to-one sessions for players of any abilities.
During his time as a coach, he has also had the chance to work within the Pompey Academy he came through as a youngster.
Shaun North, who was overseeing the under-12s to under-16s programme at the time, offered Oastler a chance to return to the club where it began for him.
He had no hesitation in accepting a role to take charge of the under-12s - leaving the role last year.
It was an opportunity Oastler was proud to take on and he credited North for helping him develop as a coach.
'I took my coaching badges and ended up working for Tony and doing two-and-a-half years at the academy at Portsmouth,' he recalled.
'I was working under Shaun North. He was the lead coach at the time and was overseeing the phase from the under-12s to the under-16s.
'I've got nothing but praise for Shaun, he's taught me a lot coaching-wise and I've taken a lot on board that he's shown me.
'It was a good learning curve for me, it was a bit of an eye-opener because you weren't coaching 18-year-olds they were 12, so it was a different type of coaching.
'All of a sudden, it was two years down the line, it was taking up a lot of my time as I had a family and I was playing on a Saturday for Oxford City and doing that, and I just couldn't do it anymore.
'I had the conversation with Shaun that I was going to leave. He was brilliant with me, Shaun, he really showed me the ropes, gave me good advice - he's a top coach - and I've got nothing but praise.'
Despite the increased coaching responsibility as his career has progressed, Oastler has not neglected the playing side - and is not planning to for a few years yet.
Handed an appearance in the Championship by Neil Warnock while at QPR before moving onto Torquay, initially on loan, prior to spending another two seasons at the club and making more than 100 League Two appearances - he was a defender who enjoyed the pro game.
But, currently captain at Oxford City, where he's been since the summer of 2017, Oastler feels it's only now he's at the peak of his playing powers.
Although there's not a single minute of training or playing time he takes for granted.
Oastler had continued playing with tendonitis in his ankle during his time at Torquay before he completely ruptured it while at Aldershot.
Determined not to let it stop him, he continued with an ankle brace for the best part of a year before finally deciding to go under the knife for what could have been a career-ending operation.
Oastler was just 25 at the time and 'devastated' after having his chances rated 50-50 as to whether he'd play again.
Still, to this day, he thanks leading surgeon James Calder, who is used by Premier League clubs, for salvaging his career and ensuring he's still got plenty of years left - all being well - before he has to focus on coaching full-time.
Oastler said: 'I've got a steady role now at Havant where I'm coaching the academy, I'm coaching my own little one-to-one business and still fit playing football, so it's a real good time for me.
'I love playing football and I've done it since I was 10 years old; for someone to say at 25 you might not play again, it really hit home. But now having played 250 games in five years since it was the best decision to get the operation done.
'I've been told I'm never going to play football again from the age of 25 so I think from that point there's never a time that I go on the training pitch or on a match-day and I take it for granted, because it can end just like that.
'I love playing, I love competing, I love working hard and winning games and that's what I want to keep doing.
'Even he (his surgeon) said he'd never seen anything like it so it was like, 'oh god, how bad is this injury?'
'He was brilliant with me and I've worked hard and I'm back in the place where I'm fully fit. I feel like I'm playing the best football over my career, really.
'Until the day I wake up and don't want to go training and don't want to play a game, is the day I give up. I don't want to get to the point where I'm letting my team-mates down - that's far away for me yet - I still feel like I've got five, six or seven years left in me.'