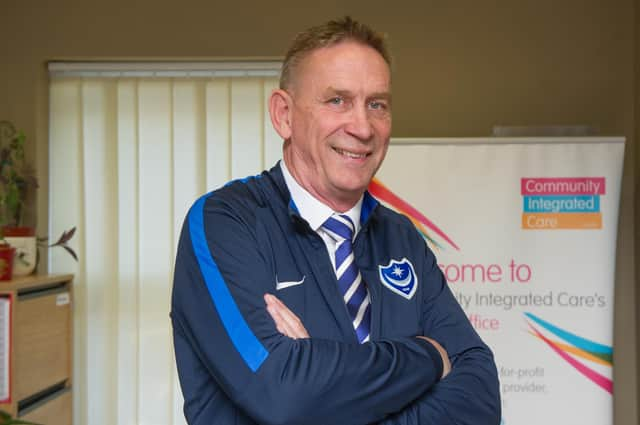 Alan Knight remains as Pompey's ambassador - despite the social media rumours. Picture: Habibur Rahman
And he remains the Blues' ambassador.
On Friday, while attending his youngest daughter's wedding, the Pompey legend was the subject of social media chatter.
It centred on claims he had been told by the club that he would no longer be serving as its ambassador.
The aftermath saw Knight inundated with phone calls and messages asking whether the allegation was true.
Unfortunate timing for the 59-year-old, who was among six people present for the marriage of Rebekah to Derek Scott at Fareham Registry Office.
The News understands there haven't been any discussions about Knight leaving the club.
And the man who made 801 appearances is bemused how the unfounded claims were given credence.
Alan Knight was involved in Pompey in the Community's food package efforts during lockdown
Knight told The News: 'It's a funny one, I don't know where this rumour has come from.
'There has been no intimation of me losing my job, so these claims came right out of the blue – and happened on my daughter's wedding day.
'I've not replied on social media. If it was true or had any substance, I'm sure the club would have told me.
'My phone was ringing all the time on Friday, but I'd have been more worried if there had been any missed calls from the club!
'The club have been brilliant with me and allowed me to work for them in a job I love, I hope that continues.
'Mark Catlin has enough on his plate without having me chucked in.
'The media side of it has run its course, but there's loads more I can give. It's obviously been difficult serving the ambassador role during lockdown, but I'm still doing what I can.
'It would just be nice if opinions could be based on truth.'
Since the first lockdown in March 2020, Knight has continued to remain busy, albeit restricted in his usual ambassadorial role.
He was heavily involved in the Pompey in the Community effort, delivering food packages to those in need across the area.
Meanwhile, Pompey chief executive Mark Catlin has hit out at those Knight rumours.
Catlin added: 'As a club, we don't comment on individuals.
'However, we have suffered lockdown and huge financial losses for well over a year now and not made one forced redundancy as a result of Covid.
'It's bitterly disappointing to see unfounded rumours on social media when you are talking about individuals' employment.
'It is not something we engage in and we are absolutely disappointed to see it from so-called fans of Pompey.
'You have to ask yourself why people would start these rumours to undermine the club they purport to support?'
A message from the Editor, Mark Waldron
The News has launched a subscription offer which gives you unlimited access to all of our Pompey coverage, starting at less than 14p a day.