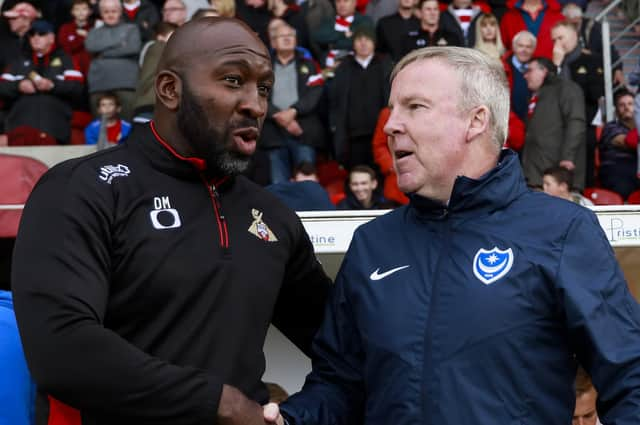 Portsmouth Manager Kenny Jackett and Doncaster Rovers Manager Darren Moore shake hands before the Sky Bet League One match between Doncaster Rovers and Portsmouth at Keepmoat Stadium on October 5th 2019 in Doncaster, England. (Photo by Daniel Chesterton/PinPep)
The ex-Blues defender had earned plenty of plaudits for the job he was carrying out at Donny.
They sit sixth in League One and remain firmly in the automatic promotion race.
Doncaster defender Andy Butler's taken the reins for the rest of the season.
And Moore is confident Rovers can continue their push for the second tier.
'There is the timing, but I'm sure they are delighted for me as an individual.
'What a wonderful football club. It was an honour to go back there. They had them down as relegation material and we managed to lead a promotion push, this season we had one going.
'I leave the football club in great hands. Andy Butler will continue to the end of the season. They're in good hands.
'They should keep doing what they're doing because they have an exciting end to the season ahead of them.'
Moore was in the Doncaster dugout for their 2-1 loss at Ipswich on Saturday.
Once Wednesday came knocking, however, he didn't hesitate at the chance to take charge.
'The chairman identified me as a candidate to take the club forward,' added Moore.
'When the opportunity came I didn't hesitate. It's an excellent club steeped in huge tradition. The opportunity was too much to resist.
'I didn't hesitate. It was an approach. I get my head down and do what I do on a day to day basis. It's wonderful to have my work recognised by a club of this stature.
'I want to work hard and give the club every ounce and inch or myself in terms of getting things going.
'They went through all the right procedures in contacting my previous club. We had a discussion and I just want to get started as quickly as possible.
'It's been great to meet the players and staff. It's been a good training session. I'm looking forward to it.'