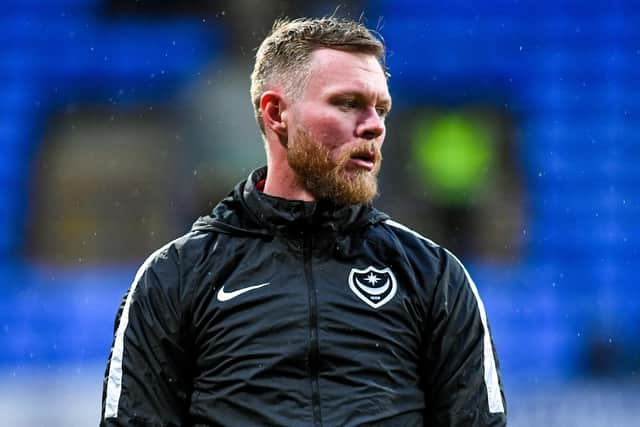 Aiden O'Brien has scored four goals in 10 Pompey appearances since his Sunderland switch. Picture: Philip Bryan
Prior to his move to the Blues, his anonymity under ex-Stadium of Light chief Lee Johnson had continued to increase, as he made only seven league starts this term for his former employers.
Despite his bit-part role, he still found himself on the scoresheet when the opportunity arose by netting six times this campaign for the 2014 League Cup finalists – including a hat-trick against Championship Blackpool.
However, this wasn't enough to see him write his name in the starting line-up, as he was consistently overlooked and demoted to the bench.
As a result, the former Millwall man is grateful for his fresh start under the Fratton chief.
He told The News: (The difference is) I'm playing. I'm actually playing and I'm on the pitch. There were times at Sunderland where I would score a hat-trick and in the next game, I would be on the bench.
'I would then be on the bench the next three games. My time at Sunderland was absolutely abysmal, I didn't enjoy it at all.
'It started well, and it just ended so badly. I just needed to get out of there because I was kind of rotting away. The manager here knows that, and he took me on, which I'm thankful for.'
In total, the Islington-born attacker has played for eight clubs stretching from Devon to the Wearside.
After coming through the Lions' youth ranks, he spent 10 years at the Den – among a number of loan moves.
He added: 'We're building a good relationship together. So hopefully, as I've said, we can extend that but nothing's been said at the moment.
'Everyone likes a bit of stability in their life, so we'll see what happens. Sometimes, even in life you just want someone to give you a backing and kind of say "yeah, you're my guy and I want you".
'That hasn't happened to me for a while, being at Sunderland with it not working out. I've come here for a fresh start, while taking a risk by coming on a three-month contract.
'I've backed myself and I feel like I've paid back the club a little bit with a few goals and a couple of performances.'
You can support our local team of expert Pompey writers by subscribing here for all the latest news from Fratton Park for less than 25p per week.