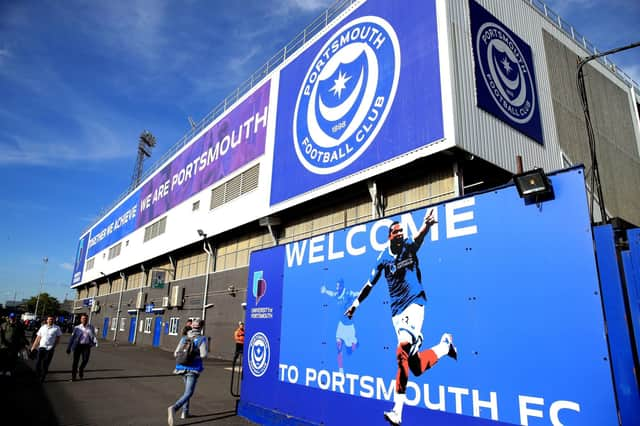 Fratton Park. Picture: Adam Davy/PA Wire.
Along with the salary cap, a squad limit of 22 players above the age of 21 was placed on third and fourth-tier clubs, with plans to reduce that figure to 20 next term.
That rule is still in place, despite Championship outfits being allowed to register 25 players.
In an open letter, chairman Gordon Taylor revealed the PFA have proposed for League One and League Two sides to also have a 25-player squad limited before further talks can be held.
Should that not work, the union is prepared to go through the courts of arbitration for a second time.
The letter said: 'As you know, the PFA was recently required to take hard salary caps to arbitration, where the independent Panel unanimously confirmed that the introduction of the salary cap without the prior agreement of the Premier League, the FA and the PFA (acting through the Professional Football Negotiating and Consultative Committee) was in breach of the legally binding PFNCC constitution.
'Following the logic of the panel's decision in the salary caps case, the PFA expected the EFL to remove the squad size limits (25 for the Championship, and as from next season, 20 for Leagues One and Two) because these limits were also introduced without consultation or the agreement required from the members of the PFNCC.
'Unfortunately, the EFL is refusing to withdraw the squad size limits. Frustrating as this is, unless another solution can be found, the PFA must now, therefore, consider commencing a further arbitration claim and/or bringing other legal claims. This would cause a further needless waste of legal costs, money that ultimately the clubs themselves have to pay if the EFL is again unsuccessful.
'To avoid further legal costs and uncertainty for next season, the PFA has proposed to the EFL a temporary limit of 25 players across all EFL leagues, pending a proper discussion of the underlying issues and the best way to resolve them.
'The EFL has rejected our proposal but we believe there exists a majority of clubs in the EFL that would prefer to have stability and certainty for next season instead of suffering the inevitable uncertainty that another challenge through arbitration or the courts brings.
'Under the Articles of Association of the EFL (see Article 10) it is open to the clubs to request a vote on the PFA's proposal, pending further discussion and agreement.
'We urge clubs to engage with the EFL and if necessary to request a vote on this proposal, as an alternative to the PFA having to assert its rights through PFNCC and then likely the courts or arbitration again.'