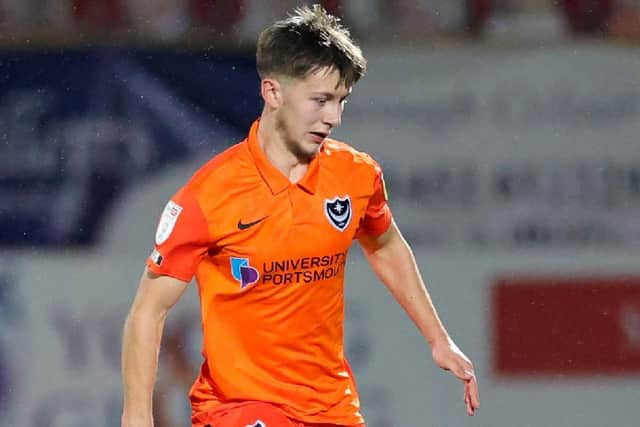 Alfie Stanley. Picture: Nigel Keene
Alfie Stanley, Harry Kavanagh, Eoin Teggart and Gerard Storey have all suffered from a lack of football this season.
The quartet had loan spells in non-league football. Stanley was at Bognor while Kavanagh, Teggart and Storey spent time at Gosport Borough.
However, the national lockdown has suspended non-elite sport, with the Southern League and Isthmian League now calling for their respective campaigns to be scrapped.
However, tonight's trip to Peterborough in the Papa John's Trophy could be the final competitive game of the term for Stanley and Kavangh if the Blues suffer defeat.
The duo are currently training with Kenny Jackett's first team regularly, although they're yet to feature in League One.
All four of the third-year scholars' contracts come to a close at the end of the season and Pompey will have to decide if they'll offer any of them professional deals or opt to release the youngsters.
Harry Kavanagh. Picture: Robin Jones/Getty Images
Mark Kelly insisted all factors must be taken into account when making decisions.
The Blues' player development manager said: 'There have got to be decisions made on the groups and where they are going, which is starting to happen now.
'We've had the boys in the building long enough, seen them training and playing so we do see lots of them.
'Everything will be taken into consideration. We've seen them over the years, it's not like we haven't been training and they haven't been playing.
'But you do have to have to take some of those things into consideration when you are making decisions – of course you do.
'Harry and Alfie are in the first-team environment, so they're training. As for playing, it is tough because even arranging an under-21s games is tough.
'It's affected everyone's game-time but they've just got to keep working. The great thing about their age group is development is development.
'They've got to get in the gym, work hard and get on with it. None of it is an easy situation, the whole thing is extremely difficult but it doesn't mean the boys stop working.
'Harry and Alfie are around the first team and they'll develop through that and what the environment is like, seeing what the asks and needs are.
'It is a tough one but the lads have got to keep developing and the Irish boys can get some game-time at home.'
Youngsters Harvey Rew and Charlie Bell are also expected to be involved at Peterborough.