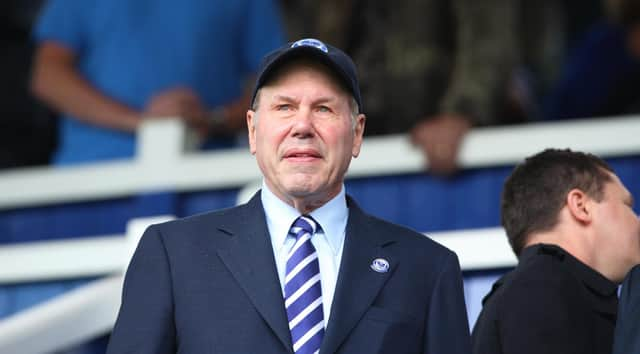 Pompey chairman Michael Eisner has today announced the club's purchase of Roko in Copnor Road. Picture Joe Pepler
And yes, we're all very much aware that a training ground requires footballers, with clearly not many of those around at present.
For all the work carried out on Fratton Park since their August 2017 arrival, they have struggled to supply anything tangible.
That is not dismissing the relevance of ongoing multi-million pound improvements to Pompey's 121-year-old home, which has largely centred on essential maintenance and upkeep, including meeting health and safety criteria.
The truth is, no matter how vital that investment programme has proven, it goes largely unseen to the scrutinising eye of the supporter.
As for snaffling up property on the quiet around Fratton Park for potential ground expansion and redevelopment, that also largely exists under the radar.
Remove four floodlight pylons, however, and brace yourself for a reaction.
Roko has served as Pompey's training ground home since December 2014. Picture: Habibur Rahman
For a sum yet to be disclosed, they have secured the freehold on the well-known health club, gym and all surrounding land, including football pitches and concrete tennis courts.
Tornante's investment is public and perceptible. A declaration of ambition in visible form – powerful tangible proof of their Pompey commitment.
There are those who will never embrace this ownership as it dislodged the Pompey Supporters' Trust.
There are those fervently opposed to the Eisners, just as they opposed the Trust and championed the chancers, a dislike based on reticence to bankroll the team to the tune of millions.
However, surely, but surely, all can step back and grudgingly acknowledge the feat of Pompey owning a training ground for the first time in more than half a century.
Incidentally, it is believed the last occasion was a Tamworth Road site sold for £15,000 in 1964 to pay club debts.
Of course, the Trust deserve immense credit for initially bringing Pompey back into the city by securing a 30-year lease at the Hilsea venue.
They moved into their new training home in December 2014, while a Tifosy campaign, involving 5,494 funders, raised £270,000 to create another pitch.
Since then, there have long been rumours of Roko's apparent willingness to sell the entire premises, even before Tornante's arrival.
Now Pompey are no longer tenants – unlocking frightening potential.
The Blues have pledged to continue managing the health club, with membership unaffected, while existing staff will also remain. In effect, business as usual.
As for the remainder of the site, perhaps the creation of a new domed playing area to allow the Academy to achieve Category Two status, maybe even an alternative home ground to Fratton Park.
We await to see the full plans, of course. The Eisner's can never be accused of occupying fantasy or pursuing vote-winning policies, their vision will be pragmatic and realistic.
What is certain, however, is that today we have witnessed the defining moment of Tornante's ownership. So far.
A message from the Editor, Mark Waldron
The News has launched a subscription offer which gives you unlimited access to all of our Pompey coverage, starting at less than 14p a day.