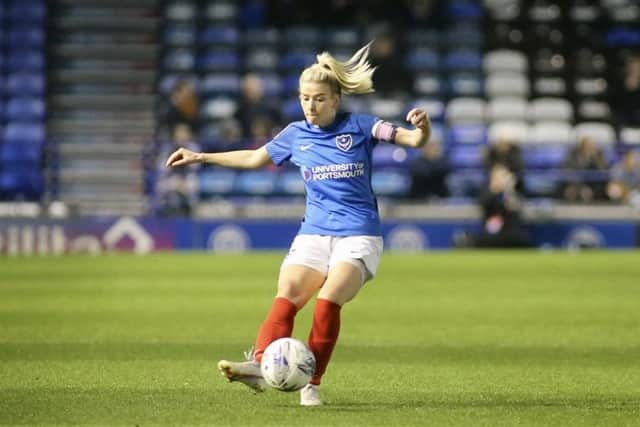 Pompey Women captain Danielle Rowe scored an unfortunate own-goal against arch-rivals Southampton FC Women. Picture: Kieron Louloudis
Captain Danielle Rowe's own-goal after she diverted substitute Alisha Ware's cross into her own net proved the difference in an evenly contested and hard-fought derby battle.
The meeting was played out in front of 1,450 supporters at Fratton Park and Sadler felt it was a real memorable occasion to be a part of - even if his side weren't quite able to deliver the desired result.
Sadler said: 'If they could host us every week (at Fratton Park) I genuinely get the feeling they would. I think these showcase events are brilliant for us, we can show what we're all about, it's a phenomenal place to play football, it's been a privilege and an honour, it's just a shame we couldn't get the win.
'I got here early just to walk down here just to kind of get used to it all. It takes an hour to get used to it all because it is a phenomenal football club, it's a football club that grasps you, and you've got to grasp it back - I think the players did that - hopefully they represented the club with the true values, never-say-die attitude, we just didn't have that cutting edge in both boxes.'