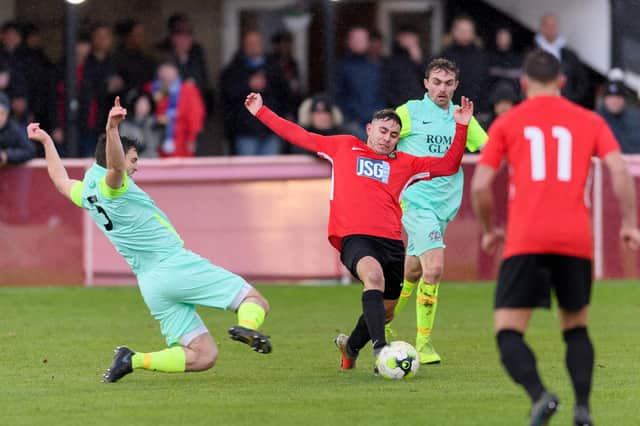 Jack Breed stretches for the ball during Fareham Town's FA Vase win against Roman Glass St George in December at Cams Alders. Picture: Keith Woodland
The 21-year-old has swapped Wessex League Premier Division Fareham Town for Gibraltan National League side Europa FC.
For Breed, who's signed a two-and-a-half pro contract with the club, it provides him with his first-ever opportunity to focus on football full-time.
But he's being made to wait just that little bit longer before he can join his new team-mates.
Jack Breed, left, takes a shot at goal during Fareham's Wessex Premier game with Bashley in November 2019. Picture: Vernon Nash
The former Bridgemary School pupil is currently counting down the days as he serves out his month-long notice period at the Gosport Costa Coffee branch and he can fly out to Gibraltar to begin his professional football adventure later this month.
'I work at Costa, I've been there for five years, and I've basically had to give a month's notice before I could go out,' said Breed.
'It was meant to be five weeks (his notice period) but they allowed me to go after four weeks, but I wouldn't have been able to go any earlier then I have done.
'It's an absolute nightmare.'
Flashback - Jack Breed lines-up for Gosport & Fareham Under-15s. Back (from left): Jack Breed, Brad Thomas, Jaye Parberry, Ousman Saidy, Joe Simpson, Jordan Goulding, Kori Moxham, Dale Mason. Front: Lewis Watch, Kieran Sykes, Tom Sykes, Luke Grinyer, Connor Summers, Sam Winterburn, George Scott.
Breed, who also had spells at Gosport Borough, Whitchurch United - he was on loan to the then Wessex Premier club in 2016/17 - and AFC Portchester, explained how the move even came as a 'shock' to him.
The former Lee Rangers, Gosport FC and Gosport Falcons youth player, who was born in Gibraltar, started every game of his country's under-21s Euro 2021 Championship qualifying campaign.
It was from watching him in some of those international matches where reigning national champions Europa FC registered their interest and eventually made their move.
Breed admitted to being quite 'daunted' by the switch initially before realising it was an opportunity he just could not turn down.
The Victoria Stadium in Gibraltar where Jack Breed will be playing for Europa FC. There are 12 clubs in the Gibraltan National League and all games are played at the same ground. Pic: MARCOS MORENO/AFP via Getty Images.
'I've got to take the risk. Everyone kept telling me to do it and I was the only one putting it off at some point,' he admitted.
'I was quite concerned whether it was the right thing to do because it was a big move for me moving countries.
'It's quite a daunting thing, really, but everyone has been very supportive and it's made me realise that it is a good opportunity and something if I was younger I would snap up, 100 per cent.
'I've always wanted to play football full-time and the fact I've been given the opportunity to do so I definitely couldn't turn it down.
Jack Breed (red) in action for Gibraltar under-21. Pic: Neil Wilson
'When I was younger, obviously, who doesn't want to be a pro footballer? That was always my goal and aspiration.
'As I got older I didn't see it going too far anymore. I knew I was always going to be at an alright level and maybe I could play a couple of leagues higher than I was in the Wessex.
'The move to Gibraltar is something that came as a shock, I didn't know it was going to come about, but it's definitely an experience I'm going to make the most of.
'I know it's a great opportunity for me because it is a professional contract at the end of the day.'
Breed is due to fly out on March 12 and is planning on getting up to speed as quickly as he can with the Gibraltar National League season still ongoing.
Europa FC are six points clear at the top after 10 matches and have won both fixtures since the league restarted last month.
Jack Breed, right, on the ball for AFC Portchester against Gosport Borough in a pre-season friendly in July 2018. Picture: Neil Marshall
He is hoping he can play his part in helping his new team secure a second straight title and be part of the Champions League or Europa League qualification next season.
But Breed might need a few weeks in order to adapt to his new surroundings and get his fitness levels up, having not played in a competitive match since December because of the non-elite football stoppage.
He said: 'The fact they get to go into Champions League or Europa League qualifying at the end of the season if they're in the top two, and the fact they're going to be winning games consistently, is something that's quite nice to be involved in as well.
'I've been doing as much as I can (fitness-wise) but I've been limited in terms of what I can do and it's definitely not the same as getting football fitness and playing matches.
'I've been doing as much as I can and my dad's been helping me with my fitness as he used to be a PTI so he knows about his fitness.
'I've been keeping myself as fit as I can so hopefully - I know it'll be a bit of a shock to the system when I get out there to begin with, especially training five days a week which I've never done - I feel like after I adapt I should be back to normal.
'I'm naturally quite fit anyway so I feel it shouldn't affect me too much because I've been keeping myself as busy and fit as possible.'
Breed had played nine times for Fareham in 2020/21 after making 16 appearances in his first term at Cams Alders the previous season.
Prior to that, he had made 38 appearances - including 35 starts - for AFC Portchester in 2018/19.