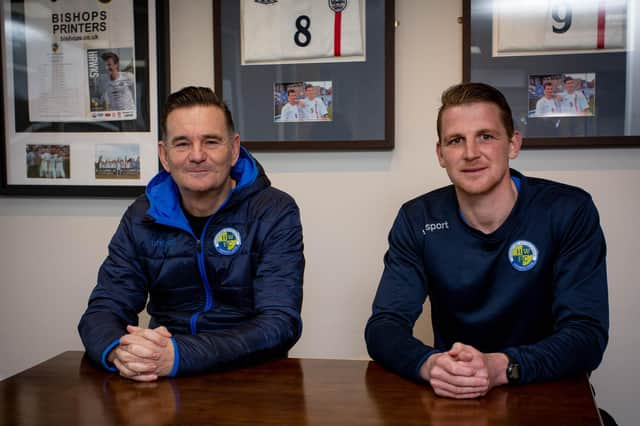 Head of coaching at the Havant & Waterlooville Pro:Direct Academy Joe Oastler, right, and Hawks boss Paul Doswell Picture: Habibur Rahman
Hawks have joined forces with Pro:Direct Academy Hampshire to bring all of those involved in the set up under the club's banner.
The programme provides 16-18 year olds regular training sessions and weekly matches in the Tactic League under the stewardship of former Pompey youth product and ex-Aldershot player Oastler.
There's also a great emphasis placed on education, with maths and English GCSE retakes possible for students who fail to gain either qualification at school, along with other higher level course opportunities.
All of which will now be offered at Westleigh Park with use of the 3G surface for all academy teams and a classroom on site.
Head coach Oastler says the switch is a big step forward for the academy and one that could be a selling point for those who might be interested in being part of the set up in the future.
The former Pompey youth player said: 'First of all, they get a chance to play at this stadium, that's a massive part of it, it's a massive attraction for them.
'Kids at their age don't get to play on facilities like this, they're normally working over public areas or playing on public areas, they're playing on a proper pitch with real good surroundings - that's the first bit.
'Even in terms of kids getting released from academies, I know Football League clubs that haven't got facilities as good as this for their academies.
'It's a chance, if they fall out of league football, they get released at 15 or 16, it's an opportunity for them to come here and potentially earn themselves a contract here.'
With more than 30 players on the current two-year course and the hope for a increase in numbers after joining forces with Hawks, Oastler conceded very few are likely to get a chance to even train with Paul Doswell's first team.
But for the 30-year-old, who's been a coach in the Pro:Direct Academy set up started by Tony Stares for four years, it's about ensuring players go away better than when they first arrived after their two years are up.
And if there are a select few of the 16-18 year olds in the academy Oastler can at least recommend to Doswell then that comes as a bonus.
He admitted: 'Not every player who comes into this football club is going to make a career in football or make themselves some money out of football.
'They're going to come in and if I can improve them individually, some players might be good enough to step in and join in with the first team, other players will probably never have that potential.
'But if I can improve them and they can go to play a higher standard of football than they would have done then that's my job and that's what will make me happy - if I can see players that have improved and go onto play a little bit.
'There are players out there now that have come on so much in two years since I've had them, not just because of my coaching, but in terms of their work rate and attitude to get better.
'That's what I want to bring into the football club, it's not just about bringing players into the first team at an elite level, it's actually just them coming in enjoying their football and if they leave with a smile on their face, in terms of my job, that's great.'