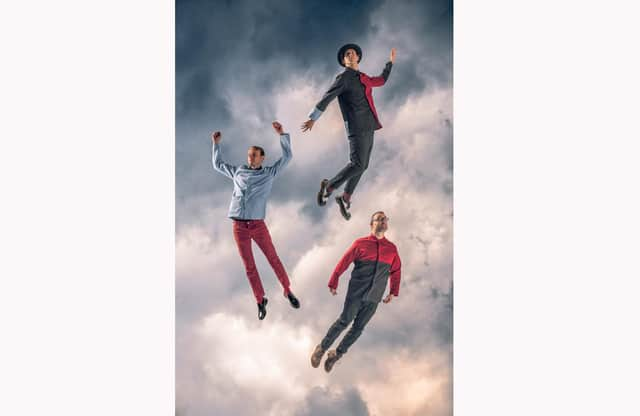 Maximo Park are releasing a new album, Nature Always Wins, on February 26, 2021, and will be touring the UK in autumn.
From the personal, with frontman Paul Smith examining how parenthood has caused him to look at human nature, to broader issues of climate change and the urban environment versus the wild, it's all there in its 12 tracks.
Always one of our smarter indie bands, the Newcastle-based trio have never shied away from combining clever wordplay and big ideas with pop hooks.
It's an approach which has yielded six top 20 albums and a clutch of hit singles, including the likes of Apply Some Pressure, Our Velocity and Books From Boxes.
And at the time of writing, Nature Always Wins could become their first ever number one – released last Friday, it was top of the mid-week chart.
But putting out a new album still holds a thrill for the frontman.
'It's something that hasn't dulled over the years,' he says. 'The songs that we wrote up here are going to be listened to by other people. You kind of get used to that feeling but it's still thrilling.
'I know the drill now but the scale of it and the idea that, yeah, it's on 6Music and that's the radio station I put on in my kitchen, those kind of things are still very surreal in a way.
Maxïmo Park, from left: Tom English, Paul Smith and Duncan Lloyd.
'I'm always nervous to see what people make of it because I've put so much of myself in to it, we all have in the band. We all love the music we make, and if you didn't, you shouldn't be releasing it.'
'There's still that nervousness of going: "God, will other people like it?"
'We're proud of the songs, they're as good as any out there, and what we've made in the past – it gives you that confidence that whatever happens, whatever a review says, or if people don't buy x amount of tickets, I could still go out there and play to one man and his dog like we did in the beginning and I would still put on a performance for that man - and his dog!' he laughs.
Maximo Park are releasing a new album, Nature Always Wins, on February 26, 2021, and will be touring the UK in autumn.
Their first album in nearly four years, it follows a period of change for the band. Keyboard player and founder member Lukas Wooller announced in 2018 that he was leaving the band and moving to Australia with his wife. Lukas's synths had been a crucial part of the Maxïmo Park sound.
The remaining members of Smith, guitarist Duncan Lloyd and drummer Tom English knew something different was required.
'He was such a key aspect of our other records – the keyboards are something that makes it Maxïmo Park – we're not a guitar band in most senses of the word!
'I think there's a broader musical spectrum at play in the records we make. We wanted to maintain that.'
While they now have Jemma Freese on board playing keys in the live set-up, the band wanted to try a new approach with this record.
'We thought, why don't we try to find a producer who's multi-instrumentalist and who can muck in on the songs, and maybe even co-write?'
As fans of his work with bands like Deerhunter and Animal Collective, they alighted on Grammy Award-winning producer Ben Allen.
'We'd heard records that has his aural fingerprints all over them going back a decade or so, and we'd kept him in mind if we were going to do something that was like the record we've actually made – something that's both big and modern-sounding, but also very intimate and dreamy at certain points.
'Because he's worked with so many people – he's co-written with Christina Aguilera, he engineered Gnarls Barkley's first record – he's done all sorts of different things, so we felt very confident that whatever we came up with we could find some new musical paths to go down.
'And that's the other thing, even if Lukas had stayed with us, after six records, some people would just go: "Oh, it's another Maxïmo Park record, great", and they could be quite blasé about it.
'You want to make people sit up and take notice - you want to move on from your former selves each time you make a record, without throwing the baby out with the bathwater.
'We tried to find ways of moving on and we felt confident Ben would be able to get that kind of sound but without losing the essence of what we do.'
With the album coming together over the past year, the pandemic meant working in the same room was out, so Ben was in his studio in Atlanta, Georgia, while the band remained on this side of the Atlantic.
'We're used to all being together in the same room, having a real rapport with our producer.
'Luckily for us just before lockdown and before it became obvious it was going to be the big spanner in the works, he came across to have some meetings in London and we'd been talking to him about producing the record, so we'd said: "Come up to Newcastle, we'll show you around, go through a few of the songs and just hang out and get to know each other".'
'I think that definitely helped, because we said: "See you in April in Atlanta," and we were just about to book the flights and things got a bit out of hand.
'We were thinking, will he still be up for doing it? We're using this guy in this expensive studio who's a big producer, someone who's sought after and we're not having that experience – we're doing it remotely.
'Will the songs hang together?
'I was sceptical as to what the end results would be like and whether we could find this new sound for ourselves without deviating from our pop sensibilities.
'In the end though it was a really rewarding process.'
For the public's first taste of the new material, last summer they released Child of The Flatlands, actually the album's closer as the lead single.
A meditative song 'about the inevitability of nature over the order we try to impose on it' it has a distinctly elegiac quality to it. Why pick this rather than one of the more upbeat numbers?
'It seemed like the most MP thing to do, which was to not do the obvious thing,' Paul laughs. 'After being away for three years, it felt like we needed to see some sort of development, see a change, otherwise it would have felt too much like business as usual.
'And to challenge people is part of our remit as a pop band, it's not ground-breaking, it's not avant-garde, but it does have elements in it which touch upon those things – there's field recordings on it, the choruses are the quietest bits of the song, we made it about libraries – it showed a sign of progression and got people talking.
'To have people talking about your music after having been around for 15 years where people can see you as part of the furniture, that was the goal.
'On a very surface level, to throw a curveball at people is part of our raison d'être as a band.'
The phrase 'nature always wins' appears as a line in Child of The Flatlands. Why did they pick it as the album title?
'There's big topics like climate change and we have to look after the world we live in – it's going to destroy us otherwise.
'But also on that smaller level, it came out of looking back at my childhood and the places around me, where mechanisation and industrialisation were king, have been taken over again by nature.
'Those little bits of friction between the urban environment and the natural world are quite interesting to me.
'Again there's something a little bit unusual about them – they're not manmade, there's something weird about them. They're places where your mind can wander a bit and not being told very specifically how to think, like when you walk around a new housing complex or a new factory and everything's very rigid and by the book.
'It's seeing how that can be infiltrated or disrupted – I started to think, I like this phrase a lot, and it started to mean a lot when I thought of the other songs on the record.
'Even songs like Meeting Up, or The Acid Remark are kind of looking back at moments in your life when you're a bit more footloose and fancy-free, and thinking: What kind of a person am I? What kind of a person was I? Are they the same? Yes, they are, but how do they interact and what is my true nature?
'My own nature kind of wins out – everybody's does. You could have the best intentions in the world, but if you're, for example, a lazy person, that side of you will win out. Not even necessarily in a bad way – it's just part of your make-up.
'And because a lot of the songs are about my daughter, who's nearly five now, she's growing up and becoming a father and being a co-parent with my wife, there's this intensity to life and loads of ups and down and really intense love, and really intense confusion and self-doubt of all the things you could be doing wrong.
'All of that ended up playing into the album title, the idea of: what have I passed down? What is my nature, how's my behaviour affecting my daughter? Is she angry because of what I've done, or is it because it's in DNA I've passed down? All these questions swim around your head, particularly when you're sleep deprived!' he laughs.
And even though the songs were written with his daughter in mind, Paul was keen for them to still maintain a universal appeal.
'When I was writing the lyrics, I was thinking: I don't want this to be from a parent's perspective, I want anybody whatever age or background to listen to it and get something out of it.'
It did, however, finally mean he could use that most un-Maxïmo word in a song: 'Baby.'
'I'd never used it in a song before, because I don't use it as a term of endearment in my life, and because our songs are pretty heart-on-sleeve and honest, I tend to use words I use in my own discourse, however complex, simple of colloquial they might be.
'But I thought, right, now I can use this brilliant pop word and feel authentic and comfortable. But also a lot of people listening to it won't know what it means because it's in so many pop songs, it could be about anything!'
The band play a livestream show from The Riverside venue in Newcastle on Saturday at 8.30pm. Tickets from £10, go to maximopark.tmstor.es.
They will be touring in autumn when they appear at The Brook in Southampton on Friday September 3, doors 7pm. Tickets £11. Go to the-brook.com.