Portsmouth rapper Tommy Brown teaches with lyrical precision on his new album and gig at The Gaiety Bar
By day he is 'Sir', maths teacher at a secondary school, but by night he spits rhymes as rising hip-hop performer Tommy Brown.
Friday, 30th April 2021, 1:38 pm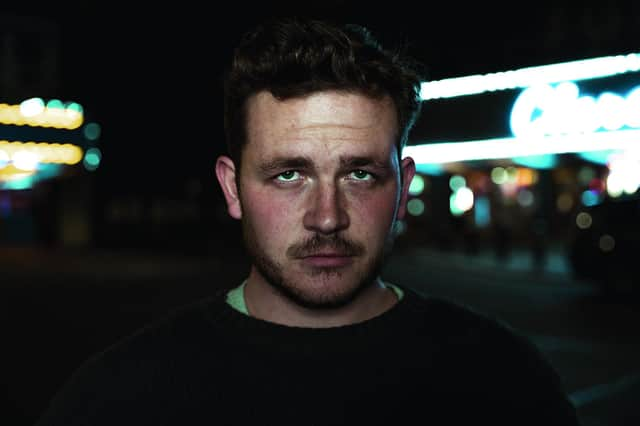 Portsmouth rapper and member of South Coast Ghosts, Tommy Brown is headlining a show at The Gaiety Bar on May 21, 2021.
For the past three years – since finishing his teaching training – he's been helping students tackle trigonometry and crack quadratic equations at Priory School in Southsea.
'I was very privileged to be offered a job straight after my PGCE. I quickly established myself with the kids and they dig the music, so that's a positive!'
And as he wryly admits, it's given his online profile a boost as intrigued students check out his music.
'It not only increases the number of streams and views that I get, but it makes teaching them more pleasurable because they see me as more than just a maths teacher.'
He recalls his first day of teacher training when they were asked to draw a stereotypical maths teacher.
'I feel like I'm doing my duty in destroying some of these negative stereotypes about maths teachers that seem to have developed over the years,' he laughs.
Tommy Brown performing live
Next month he is performing his biggest headline show to date at The Gaiety Bar on South Parade Pier, supported by an eclectic cast of local talent, including Word of Mouth, Fugitive Orchestra and South Coast Ghosts.
He has recently released his second album Carousouls, a heady brew mixing a wide array of styles with classic hip-hop beats as Tommy reflects over the events of the past year – both personal and on a wider scale.
It marks a swift return – his debut album, Emergency was released in late 2019.
'Emergency did very well for me,' says Tommy. 'BBC Radio Solent picked it up, we were able to perform it quite a bit, did some gigs here and there. We did a big one last March, just before lockdown v1, at the Coastguard.
'During lockdown v1, we were sitting around wondering what to do, possibly bored, and I guess for some people it was hard to maintain the motivation and at times it got like that for us.
'But with all the spare time we had I was able to write an album's worth of lyrics and the producer of all my tunes to date, DiamondBack Kid, we put our heads together during lockdown. Before long we had a full LP's worth of songs.'
DiamondBack Kid, aka Dan Bierton, and Tommy work closely on the tracks, and they have pulled together a team of top musicians to record them and play as his live band.
'The live instrumentation really adds something different, much to the envy of some of my musician friends!
'I feel very fortunate to have not only met Dan and have him produce my tracks, but through his various contacts, he's introduced us all to each other and made this cool little band.
'I'm in to all sorts of music, and as a group, all of the influences coming in are diverse and it results in a sound which is eclectic.
'It's hard to box, we say it's alternative hip-hop, but it's got jazz flavours, there's soul, there's rock as well, but Dan is also a big hip-hop fan, so that's where we're coming from.'
Tommy began rapping when he came to the University of Portsmouth from his family's home in Billingshurst, West Sussex.
'I've always written stories, I've always been imaginative, and when I got to university in 2013, the storytelling ability I had married quite well with the listening I was doing.
'I was listening to a lot of Biggie Smalls and old-school hip-hop, really digging in to that and studying the craft of lyric-writing.
'I played a bit of guitar as well, and it all sort of happened quite organically.'
It was a talent show at university which gave him his first taste of performing to an audience, from there he began honing his skills at open mic nights and wherever he could.
He remembers one night in particular, put on by the Word of Mouth crew.
'There was a night at the Edge of The Wedge, but this was in front of people who were there because it was an actual hip-hop night, so I remember feeling quite nervous.
'But it did quite well and gave me the confidence to think I can keep going with this.
'It was down the line I met up with Diamondback Kid and we were able to produce this music which I'm so, so proud of.'
Tommy will be pulling double-time at The Gaiety Bar gig, he's also part of South Coast Ghosts, the mysterious nine-headed collective which will be making its debut at the show.'We've not released anything yet - our first single Little Birdie, is coming out the week before the gig, we're very excited for that.
What's really good about South Coast Ghosts is that it's this collaborative project between artists, musicians, producers, rappers, singer-songwriters, who all come together and don't necessarily all fall onto the same track.
'A collaborative experience might be the best way to explain it, it contains members of the Tommy Brown crew and a few others we've come across along the way.'
The Ghosts includes Tommy, DiamondBack Kid, Fugitive Orchestra, vocalist Georgie, rapper Baby Panna, guitarist James Joe, John Hicks on keys, Dan Barrow on bass, and Teddy Trumpet (guess...).
So, is this Portsmouth's own answer to The Wu-Tang Clan?
Tommy laughs: 'Dan will love that – he's a big fan. It might be a bit early to make those comparisons, but we've got high aims!'
'Everything seems to be clicking between us, so long may that continue.
'We've all got a certain skillset, so putting our creative minds together and preparing for the gig has been a really fun experience.'
Tommy Brown presents Carousouls at The Gaiety Bar, Southsea on Friday, May 21, 2021.