Classic luxury watch brand Zero West Watches open Emsworth studio - a haven of historically poignant engineering treasures, design influences and luxuriously finished display watches
EVERYONE needs a place to call home – and for Zero West Watches, its new home is steeped in engineering history.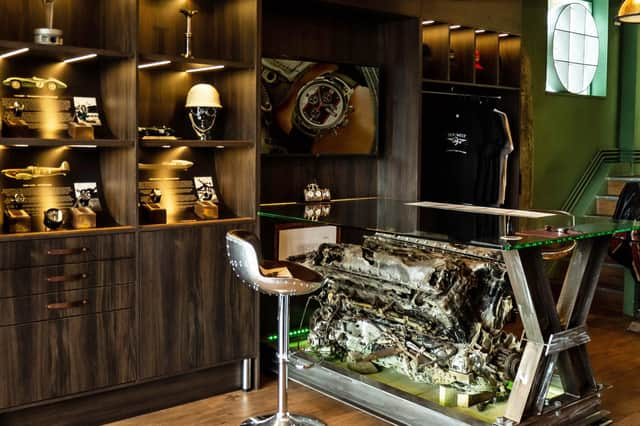 Zero West Watches in Emsworth
The business, set up by Graham Collins and Andrew Brabyn, has opened its new studio along the scenic banks of the Slipper Mill Pond in Emsworth.
It's not some vast atelier in the Jura mountains or swanky mahogany-clad boutique along Bond Street.
It is not a factory with hundreds of watchmaking benches, or a storefront with little behind it.
Zero West Watches in Emsworth. Graham Collins and Andrew Brabyn.
The converted boathouse studio is, to all intents and purposes, Zero West.
Co-founders Graham and Andrew said they appreciate every customer who comes to visit and they have endeavoured to make the Studio as welcoming and comfortable as possible.
Graham said: 'When you pay us a visit you can enjoy a good old British brew or a Zero West cocktail and hear the stories behind each one of our limited edition watches.
Zero West Watches in Emsworth
'For the mechanically minded the studio is a haven of historically poignant engineering treasures, design influences and luxuriously finished display watches.'
Graham and Andrew have a lifetime of military engineering and graphic design expertise and they both love all things historical and mechanical.
Andrew said they have been busy acquiring cool combination of pistons, pipes and metal, working or otherwise, including a custom, British-built motorbike courtesy of Foundry Motorcycles and a salvaged Mk IX Spitfire Merlin engine doubling up as a table.
Zero West Watches in Emsworth
He said: 'These are more than just window dressing. They are the kinds of items from which Zero West draw inspiration.'
Zero West's current collection of watches, defining great moments of land, sea and air, are on display, along with black and white photos and objects from the particular piece of mechanical history that directly inspired it.
The Studio is a working studio where they design the watches, create the website and marketing campaigns, build the prototypes, make the leather straps and carry out final meticulous checks, before each limited edition timepiece is shipped to one of their worldwide customers.
In short, this Old Boathouse in Emsworth isn't just where they've registered their name. It's the shipping depot, R&D lab, customer service centre and design studio. It's where Graham and Andrew love to be. It's their home and the petrol-pumping heart of Zero West Watches.
Promote Your Business With The News
We have seen how tough the past year has been on businesses so we've decided to do our bit to help by offering a new way for businesses to market - and a lower cost.
The scheme, sponsored by the Federation of Small Businesses, will help businesses promote themselves at a fraction of the usual advertising or marketing costs.
As the pandemic ends, there's never been a better time to promote your business and make it stand out.
Come to us and take up this one-time only opportunity for the lowest-ever cost to appear in the area's biggest news outlet with authentic, interesting copy.
- How much does it cost?
75 per cent off normal rates. A one off, one time fee, no contract
- What do you get?
A guaranteed published article in The News - and online at portsmouth.co.uk
- How does it work?
Our business editor Kimberley Barber has been helping businesses to stand out for 10 years. She will help you identify the thing your business needs to shout about, in order to get it noticed.
Whether that's a new product, an expansion to your team, an award win, or even just simply a change of opening hours - there are many reasons that a business would need to shine a light on itself.
Kimberley will help you to find your 'top line' and her team will create an authentic article to appear in the pages of The News.
Your company doesn't need to employ somebody to find the best news, or even write it, let the experienced team at The News do it for you.
Not only will your article run alongside the daily business page, putting it in the perfect spot to reach engaged readers, it will benefit from the News' insider track on what makes attractive content that will engage your customers.
- What could happen after appearing in The News?
Our newspaper is read by thousands of people everyday. It's been the traditional route to reach people in Portsmouth for hundreds of years.
It is read by all major news outlets, and is often the starting point of national stories.
Being in The News gets your story in front of the right people.
If your story has editorial value, it will appear on our website portsmouth.co.uk - reaching worldwide audiences of hundreds of thousands of people.
As well as this, with the right tweaks, it could appear on The News' Facebook page - reaching a following of 120,000 people who all have an interest in this area instantly.
The News also has Instagram, LinkedIn and Twitter followers - if appropriate for these audiences, your story will be shared on these accounts too.
Being published in The News is just the start, with our help, we can get you on the path to national recognition.
- What else do I get?
As well as the pride and prestige of appearing in the biggest and longest-serving news outlet in Portsmouth, you will become part of our network.
You'll join a group of like-minded businesses and individuals who all have Portsmouth at their hearts.
You'll also get access to special advertising packages and discounts, should you wish to further promote your message.
Join us, it's the start of our business community coming together and working together for the benefit of our community.
- How do I sign up?
For further business support contact Emma Weatherstone, membership advisor Portsmouth & Solent Federation of Small Businesses on [email protected] or 07764432489