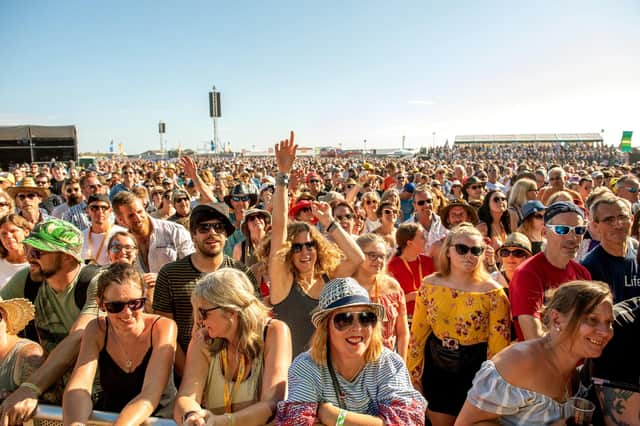 MP Stephen Morgan has called for the introduction of a government backed insurance scheme to help ensure Victorious Festival organisers have the security to plan for this year's event to go ahead. Picture: Vernon Nash (250819-043)
That's the view of Portsmouth South MP Stephen Morgan who has written to the chancellor Rishi Sunak on behalf of Victorious organisers who are concerned at the precarious position they are currently in with the current government roadmap suggesting festivals may be able to go ahead in August but insurance providers ''unwilling to offer cover' due to ongoing uncertainty.
Mr Morgan said: 'The government has the perfect opportunity to introduce a government-backed insurance scheme for festivals, allowing them to bounce back this summer. It would secure jobs, promote local economic growth and provide entertainment after a long and difficult winter.'
Portsmouth MP Stephen Morgan has called for the government to introduce an insurance scheme to enable festival organisers to plan for summer events. Picture: Habibur Rahman
Within the letter Mr Morgan highlights Victorious Festivals impact on the local economy in generating £12m of income and creating 154 jobs.
The Association of Independent Festivals (AIF) has previously reported that more than 90 per cent of its members face costs that could ruin their businesses as a result of cancelled events and almost none were covered by insurance for cancellation related to Covid-19.
Victorious Festival's managing director James Ralls said: 'Insurance is a key part of our preparations for Victorious Festival this year and the last piece in the puzzle to enable an amazing summer of live events to go ahead.
Victorious Festival director James Ralls hopes the introduction of a government backed insurance scheme would allow plans for the summer event to commence.
'I urge the government to help enable the UK creative industries to thrive once again by introducing a government backed insurance scheme.'
Isle of Wight Council leader Dave Stewart said it would not have been safe to hold the event in June.
He added: 'Although it is likely we will be out of lockdown and open for business as an Island in September, this is not definite.
'Any plans must be predicated on it being safe for the festival to proceed, which will ultimately be a decision based on public health grounds.'
A message from the Editor, Mark Waldron
Our trial offer starts at just £2 a month for the first two months.