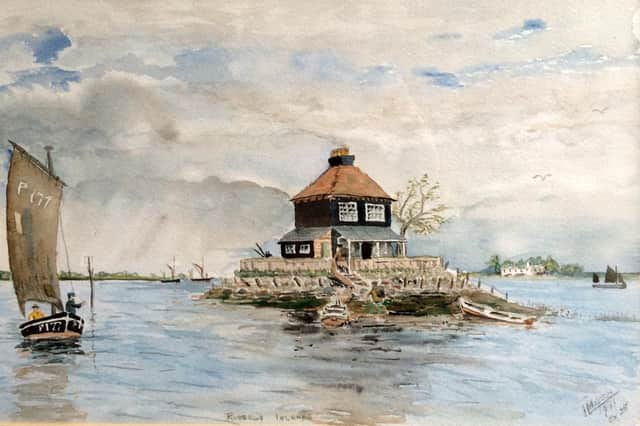 A painting by local artist Les Hudson of the Oyster House in Langstone Harbour. Painting: Les Hudson/Bill Tremlett collection.
Bill says: 'Following your excellent photograph of the Oyster House in Langstone I thought this photo of a painting by the local artist Les Hudson may be of interest to readers. On the back of the painting he wrote the following:
'This little Queen Anne on Russel Island in Langstone Harbour was once the HQ of the flourishing oyster fisheries.
'The fisheries suffered a heavy blow when pollution by sewage was discovered around 1900. The house then became a holiday retreat and the artist spent many holidays on the Island. It suffered a near miss by an enemy bomb in April 1941 and finally fell in 1948. This water colour is made from a sketch made in 1925.'
The days of naval might - the 16in guns of HMS Nelson.
Thank you for this Bill. If anyone else has information, please let me know.
In the distance can be seen two Thames barges with their familiar sail formation. The sails are brailed (furled) so the crew might be fishing. These flat bottomed craft usually had a crew of two, skipper and mate.
On the right of the painting is a white building. Could this be Great Salterns Mansion on Eastern Road now a Harvester restaurant?
• Remember the photograph of the American battleship Iowa entering Portsmouth Harbour? I said how sad it was that we do not have a preserved battleship of our own.
The first Co-op store, in Charles Street, Portsmouth, opened in 1873. Picture: Mick Cooper collection
Although mighty in ship-to-ship action, battleships could not compete against the advancing technology of air power. The massive 65,000-ton Japanese battleship Yamoto, carrying nine 18in and a dozen six-inch guns plus many anti-aircraft weapons, could not repel aircraft and was sunk in 1945 after being hit by numerous bombs.
However, if you were the enemy in a cruiser seeing HMS Nelson coming over the horizon with her massive guns aimed at you, you'd beat a hasty retreat I would suggest.
It would still have been marvellous to see Nelson berthed in Portsmouth Harbour. I am sure she would have made light work of a modern aircraft carrier if she could have got her shots in first and managed a hit on the waterline.
• No doubt you all remember the old Portsea Island Co-op where a dividend (divi) number had to be given after every purchase? The first Co-op opened in Charles Street in what is now Old Portsmouth on May 9, 1873.
The Southern Co-op was formed in 1873 by dockyard workers who had transferred from Woolwich to Portsmouth. To start a new Co-op, 30 people attended a meeting in December 1872 each agreeing to pay a shilling (5p) to establish the company.