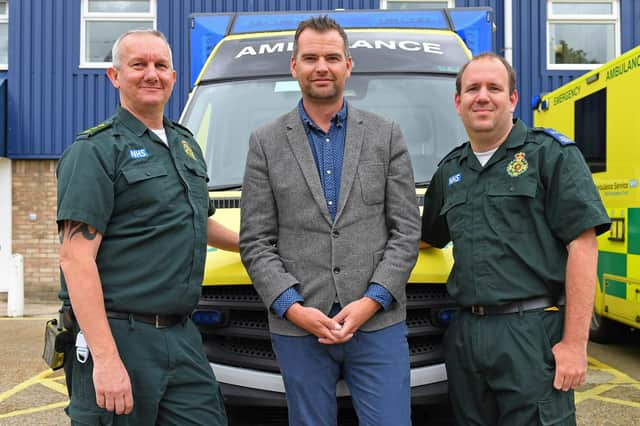 SCAS Technical Team Leader Dave Gardiner with (right) SCAS Emergency Care Assistant Chris Adoo who responded to an emergency call when Jamie collapsed just 400 metres from the Finish Line of the 2018 Great South Run on Southsea seafront Picture: Malcolm Wells (190610-2162)
But the 2018 Great South Run was different. The now-39-year-old father-of-two from Waterlooville, was running in aid of Kidney Research UK and was proudly wearing the charity's vest as he pounded the pavements of Portsmouth.
All was going well until Jamie got close to the finish line. Suddenly everything changed for the Goodwood sales executive.
Due to severe dehydration and overheating, his kidneys, then his liver, started shutting down.
Jamie Williams coming out of a coma with his friends Rob Parr and Joe Mason.
He collapsed and was taken to hospital, where he was placed in an induced coma to save his life.
Jamie says: 'Thanks to research into treatments, the team of medics caring for me knew exactly what to do to save my life. Without that I wouldn't be here today,'
Ironically, medics had to cut off his Kidney Research UK running vest when he got to hospital.
'I was running to raise money for the charity because my daughter receives regular monitoring due to scarring on her kidney,' says Jamie.
Jamie Williams at a golf tournament with professional football manager Sean Dyche and friend Jamie Turpin
'She suffered at the age of six due to a big infection. Luckily, she is okay and just needs to be monitored as one of her kidneys is at 33 per cent function and the other is fine.
'It was because of that I decided run to raise money for Kidney Research UK.
'It was the third time I had entered the Great South Run and had finished in good times previously with no concerns.
'I had prepared well with my friend Dean Smith, a PT instructor in the army, so all seemed good.
'However, this time things were very different. The first nine miles were good but between that and the last 400 metres from the end it went downhill.
'Something went very wrong. One minute I was running alongside Dean and the next apparently, I said to Dean, "I don't feel well".
'I then collapsed and don't recall anything else'.
Jamie adds: 'Luckily, Dean caught me which is quite a feat as I am 6ft 5in! He managed to prop me up and tried to give me some water.
'I couldn't even hold the bottle. He thought I had suffered a stroke.'
Dean borrowed a phone from somebody in the crowd to call Jamie's wife, Gemma, who was waiting at the finish line with their children and other family and friends.
Friends could see Jamie's progress on a tracker but then it stopped moving.
Gemma ran through the runners to get to her husband who by that point was being sick and had started fitting. 'When the ambulance got me to the medical centre my eyes were rolling to the back of my head and I was still fitting', he says.
'I was taken to QA where my temperature was sky high.
'Doctors put me into an induced coma to save my life.
'My creatinine levels were in overdrive and were dangerously high. My body was literally poisoning itself. My kidneys began shutting down and so did my liver.
'While in the coma medics worked to flush out my system for 24 hours and when I woke up I felt like I had an almighty hangover and was very weak.'
Jamie was kept in hospital for eight days until he was properly recovered.
He said: 'I am now backto playing football, golf andrunning on a treadmill.
'I'm coming to terms withwhat happened due to becoming severely dehydrated and over – heated but will never forget those who saved my life. I am forever in debt to my 1:1 nurse Helen Green, Chris Adoo and Dave Gardiner, the paramedics, and the hospital team.
'They are all amazing. It could have been a very different story without them'.
Jamie is now urging people to support Kidney Research UK.
To make a donation go to kidneyresearchuk.org.