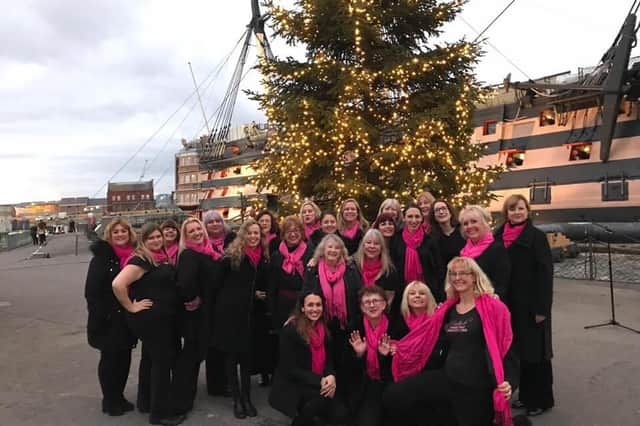 The Cantando Female Voice Community Choir at the Dockyard last year
The Cantando Female Voice Community Choir in Southsea have been putting out a Christmas carol a day on YouTube to raise cash for family support charity, Home-Start Portsmouth.
Director Rebecca Robertson said: 'We managed to sing together when the restrictions were changed earlier this year, although we all had to wear little pink visors and stand far apart. When the rules changed again we decided to go back to singing virtually together like we did in lockdown and we thought Christmas songs would be the perfect thing to do although one everyday has been a lot of work!'
The choir has so far raised £445 for Home-Start with the songs including God Rest Ye Merry Gentlemen, Let it Go and the Holly and the Ivy, with videos designed by choir member Clara Fletham.
Rebecca added: 'What we have achieved this year has been amazing. I think having the choir throughout the lockdowns has really helped people feel a part of something.
'I am so happy we have raised some cash for Home-Start as some of choir members are volunteers and they are a very deserving charity.'
Home-Start Portsmouth co-ordinator Heidi Taylor said: 'As a member of the choir myself I was so pleased when they decided to support Home-Start Portsmouth.
'In that spirit of generosity, Home-Start Portsmouth has been encouraging people to support 'Give A Little Love' this Christmas by giving their time, money and voice to the campaign and the choir have certainly more than done this.
'Since the pandemic started, locally we have seen social distancing and isolation placing an enormous extra strain on families.
'We exist to enable local parents to be the best they can be by offering emotional and practical help through trained volunteers, both in family homes and out in the community. Our volunteers, who are often parents themselves, are trained and supported by experienced co-ordinators who are there to guide and advise them throughout.
'This money will ensure we can continue to support families in Portsmouth through the wonderful support our amazing volunteers give.'
A message from the Editor, Mark Waldron
You can subscribe here for unlimited access to Portsmouth news online - as well as fewer adverts, access to our digital edition and mobile app.
Our trial offer starts at just £2 a month for the first two months.