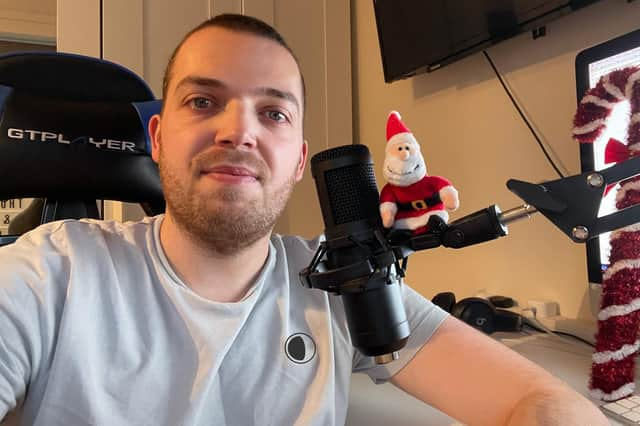 Tom Hill, who set up mental health charity TyveCARE, is hosting a quiz on Christmas Day through Twitch
From 4pm on Friday, Tom Hill from Waterlooville will entertain people in their homes through a live-streamed quiz which has a prize up for grabs to the winner.
Tom, 25, fundraised earlier this year to register his business tyveCARE as a charity, aiming to develop an app which encourages people to talk about mental health.
His latest idea is set to prevent isolation on Christmas Day as people can watch the live stream on Twitch, write down their answers and self-mark how they have got on.
Tom said: 'For some, Christmas Day is the worst day of the year. Mental health isn't just something that comes around on working week days, it happens during happy holiday seasons too and this is my way of trying to help others.
'I could easily sit and get upset about how I can't see my family and friends, but with the technology that is available to me, I am turning my attitude around and I hope I can do that for others too.
'I want to explain that mental health doesn't always mean a deep and scary conversation, sometimes it means getting an obvious question on a quiz wrong, and then feeling able to laugh about it!'
Quiz lovers will be asked to take a selfie with their final score and upload it to tyveCARE's Facebook.
The competitor with the highest score will win a bottle of their chosen drink, 2021 party poppers and nibbles ready for New Years Eve at home, posted to their home address.
Tom's aim for the charity is to get people to talk about mental health and make sure no one is suffering in silence.
He said: 'For me this isn't work. Creating and working on my charity and its fundraisers is something that I will do forever.
'I have always believed that we are put on this earth to help others, if everyone helped one person, then the world would be a better place.
'The message is simple, tyveCARE is here for the long run, we are an extremely proactive charity and we care for everyone.'
A message from the Editor, Mark Waldron
Our trial offer starts at just £2 a month for the first two months.