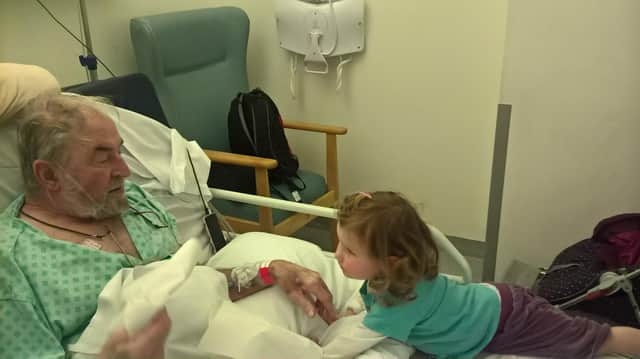 Vincent Flint with his granddaughter Ariana Bradshaw. Picture: Dawn Bradshaw
With the prime minister announcing the roadmap out of lockdown at the end of February, renewed confidence and bright spring weather brought out large numbers of people in scenic spots – while business owners called for caution.
From salon owners to pub landlords, business owners pleaded with residents 'not to relax too soon' and to continue to follow lockdown restrictions so as not jeopardise the reopening of their livelihoods
But there was no denying a change of mood as the vaccination roll out meant restrictions could gradually fall away.
One year on at Portsmouth Cathedral after the prime minister announced a nationwide lockdown in response to the Covid-19 threat Picture: Chris Moorhouse (230321-13)
'You can't beat this feeling', said Jennifer Holland, describing her elation as she hugged her 94-year-old mother Maisie Hider for the first time in a year, as the pensioner had been residing in the Oakland Grange Care home in Southsea.
Meanwhile, schools across the city welcomed back pupils for the first time since the start of January, with teachers forming a guard of honour to salute their resilient pupils as they returned to Priory School in Southsea.
Away from the pandemic, the game was afoot – as a campaign for a new Sherlock Homes museum at the old records office in Portsmouth gained a celebrity cheerleader.
Pictured: Jennifer Holland 71 with her mother Maisie Hider 94 Picture: Habibur Rahman
Comedian and author Stephen Fry threw his weight behind the campaign, saying a new museum about the world's most famous detective – created by former resident of the city Arthur Conan Doyle – would be 'wonderful for the city and surrounding area, and wonderful for the legions of fans around the globe whom it will attract'.
The month ended with a reflection on the lives lost and the suffering endured over the previous 12 months, which saw the words Covid-19 and lockdown became common currency.
Portsmouth Cathedral hosted a service of remembrance as part of the National Day of Reflection to remember those lost during the pandemic, a much-needed time to come to terms with grief for one Gosport family who shared their experience with The News.
Southsea Golf Club member Ron Trevaskis (91) from Portsmouth, is looking forward to getting back to playing golf as lockdown restrictions are eased. Picture: Sarah Standing (260321-5735)
Gosport resident Vincent Flint died from Covid-19 just hours before the announcement of the first national lockdown, and a year later his family were still waiting to honour his final wish to have his ashes spread in his home country of Wales.
And March felt like the month where the world was ready to turn again – with restrictions on outdoor gatherings between households easing.
'We are still on course', The News celebrated, as golf links reopened as part of the national roadmap out of lockdown, much to the delight of Ron Trevaskis, 91, who returned to his much-missed hobby.
Stephen Fry and the Records Office in Museum Road, Old Portsmouth, that could be demolished to make way for new homes.
And we dared to look forward to a restriction-free summer in Southsea's 'fields of fun' – as Madness, Rag 'n' Bone Man, and Mel C were announced to play a returning Victorious Festival.
The first month of spring ended in glorious sunshine – fitting the mood of residents as restrictions allowed up to six people to meet outside.
A Message from the Editor, Mark Waldron
Subscribe here for unlimited access to all our coverage, including Pompey, for just 26p a day.
David and Joanna White and Joanna's father, John Castleton, use candles to make a Beacon of Remembrance in Grosvenor St, Southsea Picture: Chris Moorhouse (230321-33)
Ease of lockdown restrictions are lifted as people up to a group of six can meet outdoors on 29 March 2021. Picture: Habibur Rahman