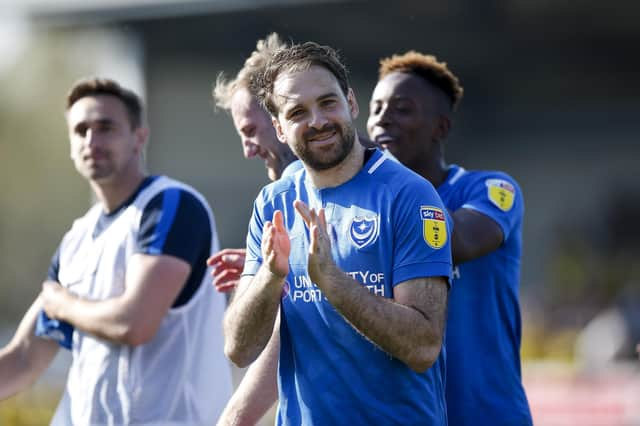 Brett Pitman has yet to show his Pompey goal-scoring form at Swindon. Picture: Daniel Chesterton/phcimages.com/PinPep
But according to the Swindon Advertiser's Jonny Leighfield, there are signs normal service is resuming for the prolific striker under new boss John Sheridan.
Pitman departed Pompey in the summer after 99 appearances and 42 goals during three successful seasons on the south coast.
Some supporters were disappointed at the exit of their former skipper, who endured a fractious relationship with Kenny Jackett later in his Fratton Park stay.
Nonetheless, Swindon represented a fresh start, signing for the Blues' League One rivals in August on a two-year deal.
However, fitness, injury and selection have restricted Pitman to 15 outings and four goals so far.
Swindon reporter Leighfield said: 'When Pitman was brought in, it was clearly a big name who had done well in his career and the fans were rightly encouraged.
'Having missed pre-season, the player himself admitted it's taken him a while to get fit. The result was not initially impressing.
'He's had a hamstring injury, fitness is not quite where it needs to be and he hasn't really hit the heights.
'But Pitman has shown signs he is a slow burner and there is still a decent player there – providing he can get himself properly fit.
'There have actually been some important goals, securing positive results, but he has not always looked his best, while wasn't mobile enough to suit the previous manager's style.
'Since Richie Wellens was replaced by Sheridan, Pitman has kicked on. I'm sure it's no coincidence that his fitness is improving and hopefully he can continue in the right direction.
'It has been a tough start for him at Swindon, no doubt, but there are reasons for that. It's not a case of he's a poor player at the end of his career, there are mitigating factors for his slow start.
'He scored a stoppage-time equaliser against Charlton last weekend after coming off the bench, and the team deserved that 2-2 draw.
'Pitman has played 90 minutes just five times this season and, from interviewing him recently, has been frustrated by his beginning here.
'It has been stop-start – but he would definitely benefit from more game time.'
Meanwhile, another former Pompey player, Dion Donohue departed Swindon earlier this month.
The left-back, who made 48 appearances during two years at Fratton Park, quit the County Ground to be closer to his family, with his niece diagnosed with a terminal illness.
Leighfield added: 'Donohue left to be closer to his family, which is a shame because technically he is a very good player.
'He had featured 11 times this season, missing a few through injury, and I really liked him. If he didn't have a history off the field, it looked like he could play higher.
'It was just unfortunate that there were personal reasons for him to leave Swindon so suddenly.'
A message from the Editor, Mark Waldron
The News has launched a new subscription offer which gives you unlimited access to all of our Pompey coverage, starting at less than £1 a week.