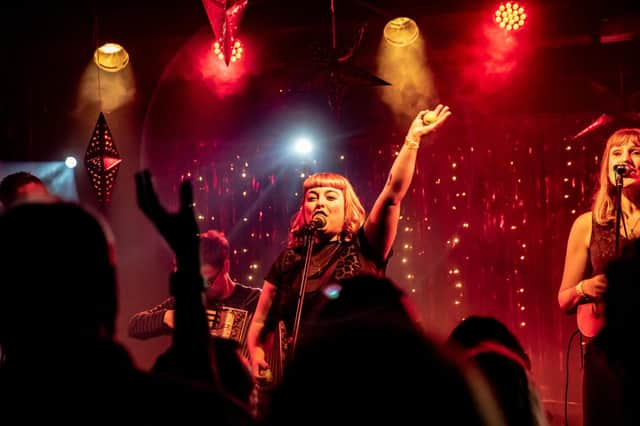 Halliwell performing at the Valentine's Day Massacre, The Wedgewood Rooms, Southsea, February 2020. Picture by Russ Leggatt
The Valentine's Day Massacre has become a fixture on the calendar for those in the know – packing out the Wedgewood Rooms each February. Each act picks a trio of songs to cover, as long as they relate to 'love, lust or heartbreak,' leading to some hugely entertaining interpretations.
And each year has raised more than the last for their chosen cause, Youth Music.
Last year, the night raised more than £4,000.
But of course, this year was thrown into jeopardy thanks to the ongoing pandemic leaving venues closed.
Undaunted, organiser Matthew Tiller is pressing ahead with an online edition – acts have been invited to contribute videos which will then be streamed as live on Saturday.
'I was talking to Mark (Pierce, partnerships manager) from Youth Music, he messages me every year around November to give me a little nudge to ask if I'm still doing this.
Olly Simmons performing at the Valentine's Day Massacre, The Wedgewood Rooms, Southsea, February 2020 as part of The Wedge's House Band. Picture by Russ Leggatt
'We both understood where we were at because, well...
'I was a bit hesitant about doing it like this because a big part of what makes it special is everyone being in the room together, being able to sing along and all the bands in the dressing room having a laugh.
'So I definitely had my reservations about taking that to an online space, where people would have to do that at home.
'But I think there is a way of doing this where we can still capture some of that essence.
'Elvis' lives at the Valentine's Day Massacre, February 2019, at The Wedgewood Rooms, Southsea. Picture by Russ Leggatt
'Through the technology we can still communicate in the comments, and I'll be trying to get the audience to interact if possible.'
When Matthew put a call out on social media for acts to take part, he wasn't sure of the response.
'I wasn't expecting much because you're putting a lot more on the bands than you usually would.
'In the past, they need to learn three songs, but then when they've turned up at The Wedge, everything else is more or less sorted for them.
'This time, if they're going to submit a song, they need to think about how they record it, how do we get the audio and the visuals together?
'Some people who've done this have got that experience, and then there are others who have probably never edited anything in their lives, and they're trying to figure out: "Okay, how do we do it?"
'A big part of the charm of the night, is that some of the performances are a bit rough around the edges. In fact some are terrible, but that's part of it.
'You can mask a lot of that with beer, and loud people, and lights and you can dazzle people... Whereas if you're recording yourself there's nowhere to hide.
'But all of the videos I've seen so far have been fantastic.'
New footage will be mixed with videos from past years, and while the event is free to watch on YouTube, people are invited to donate to Youth Music if they can.
'Last year's total for Youth Music was mind-blowing, but obviously we've lowered our expectations by quite a bit. We understand it's difficult for a lot of people right now.'
Past years have always had a numerical edition, something Matthew is avoiding for this one.
'This is technically our ninth, but I've not really called it that this time. This is a B-side, an outtake or something – it's not canonical!'
'If I was to call it the ninth, it just wouldn't feel right – not until we're all in a room together again.'
Matthew, who is also The Wedge's marketing manager, has been decorating the venue to film some segments with him as the evening's host.
'Hosting is not something I'd say I'm comfortable with, but I wanted to make sure I had some of the venue in it. I thought it would be nice for people to see the Wedge.
'I had this moment when I was up a ladder and pinning in the foil curtains at the back, I had a playlist on of some of the songs that had been done in the past at the Massacre and it was really exciting.
'It felt exciting – like we actually had a gig coming up – I've not had that feeling in a while.
'So it is very different, but in some ways it's very familiar and it's nice feeling, a little sad in places too, though.
'I always feel the night is more like a party, and putting this together has been great, I've talked to people I've not spoken to in months, and it's a nice thing where we can touch base and catch-up, ask how they're doing and that they're alright.'
Saturday, February 13, 8pm