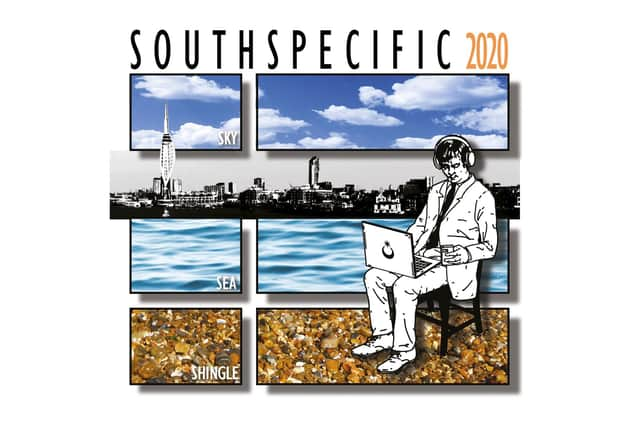 South Specific 2020 album cover. Released by Brain Booster Music
Bands all over the UK realised they didn't need to wait to be 'discovered' by some major label fatcat from London – they could create their own label and put the music out themselves.
Scenes popped in the provinces, most notably in Manchester and Liverpool – but we had our own less celebrated scene in Portsmouth too.
And that scene was immortalised on a 1980 album, South Specific.
In 1979 local bands Attic and The Frames put out Portsmouth's first independently released singles on Brain Booster Music, a label created by members of Attic for like-minded acts to release through.
But the idea for something bigger – to put the scene on the map – was forming. Those two bands along with Renaldo and The Loaf, The Nice Boys, Dance Attack and The Chimes teamed up, and acting as a co-operative they shared the costs equally of recording, pressing and releasing an album.
This then paid for two new acts who couldn't otherwise afford to take part – Toxicomane and Anna Blume – to join them on the resulting 17-track South Specific LP.
The album's initial run of 1,000 copies on the Brain Booster label, complete with a piece of sandpaper hand-glued on the cover, sold out sold out and has since become something of a collectors' item.
A collage of acts from South Specific 1980
Now 40 years on South Specific is back.
Initially mooted as a double-album, it is a sprawling 61-track, 3 CD affair, with a remastered version of the original album, plus two discs of acts currently active in the scene.
And all profits from the project will go to Portsmouth-based music and mental health charity, Tonic.
The original South Specific album cover, 1980. Released by Brain Booster Music
Brian Poole, the Renaldo Malpractice in experimental duo Renaldo and The Loaf, to his colleague Dave Janssen's Ted The Loaf, also helped design both the original new albums' covers.
'It was one of the first "town" compilations,' recalls Brian. 'But it was probably the first to have an altruistic side to it.
'The bands on the original one, all paid the same amount to be on it, which subsidised the studio costs of two completely unknown, young bands so they could get the exposure – it had that collective thing of helping other bands, which was central to the concept.'
Of all the acts involved in the original, Renaldo and The Loaf have perhaps become the most enduring, attracting something of an international cult following. They continue to release new music today, and are the only band to feature on the original and new parts of South Specific.
Renaldo and The Loaf in 2020. They are the only band to be on South Specific 1980 and 2020
Curiously though, they didn't play their first 'proper' live gig until 2018, an anniversary show for their record label Klanggalerie in Vienna, Austria.
But it wasn't the first time they had been stage.
'Dave and I graced a stage at a showcase for South Specific – a few months before the album came out, it was like a promo thing.
'We said: "We can't play our stuff, we're studio musicians". So we did an improvisation – that's how we used to start a lot of our music.
'We set up a tape system and this, that and the other and did a 20 minute improvisation.
'It was quite interesting – we were the first band on and the other bands were like Attic and (popular Portsmouth punk act) The Media, and you can imagine The Media's fans were rather taken aback,' he chuckles at the memory. 'But they were very polite and they listened to it.'
The Glorias. Picture by Vernon White
'Renaldo and The Loaf played this improvisation mainly to a bunch of punks, but we don't really consider that to be a show.'
The new project came out of a chat in 2019 between Brian and Pete Coote, originally of Attic and now in The Muvvas, when they realised South Specific's ruby anniversary was looming.
They were soon joined on the organising team by Rob Bartlett (also from Attic), Nigel Hullett of The Nice Boys and Clair Wheeler, who sang with Astral Bodies, a band which formed just too late for inclusion on the original.
'It took us a while because we had to devise a concept – how are we going to tackle this?' says Brian.
'We could reissue the 1980 album, but how would we tackle the 2020 version? In the end, we went to various gigs, we met with certain friends who know a lot about the local scene and got recommendations, and we approached bands and asked them to send us an Mp3 or two.'
The organisers are also keen on the notion of legacy.
'Perhaps in 10 or 20 years or whenever, the next generation will make another South Specific, so you will see the evolution of music in Portsmouth.
'There's a bit of that in this where you can see the children of two of the participants from the original album have tracks in this – Poppy-Joy Cherry-Daniels aka Anna Blume 2020, her dad was in the original Anna Blume, so she does a cover of their track. Then there's a performer called Louie Snacks who is the son of one of The Nice Boys. So there's a generational thing happening too.
'The legacy thing, whatever music is doing, however it's presented, there's this idea of moving it forward.
'There's more to it than just: "Here's a record: here's some music".
'It's cool music, it's showcasing music, it's generational, it's about legacy, and it's for charity.'
Pete Coote, then in Attic, recalls those heady days of the late-70s: 'Our friends, The Media and The Frames, we used to go down the pubs, there was quite a scene going on.
'The Rotary Club was open, The Cumberland Tavern was playing, lots of other pubs now closed, it was quite a bubbly music scene.
'So we made a record, The Frames made a record and put it out under Brain Booster, and The Media made a record and put it out on Brain Booster, before getting their own label.'
It was Pete who first contacted old school friend Brian about doing the original album.
And the album did go some way to shining a light on Portsmouth – Attic and The Frames were invited to record sessions for legendary radio DJ John Peel.
'We ended up driving up to London,' says Pete, 'joining the Musicians Union to get paid by the BBC, to record in the BBC studios – what a great experience, we loved it. John Peel played the four tracks twice and we got two cheques for £70 – we were in the money!' Pete laughs at the memory.
'Of course we got older, we split up, some carried on. I still play music, I've been in lots of different bands down the years. As well as The Muvvas, I'm also the chair of The Pompey Pluckers.'
While the ethos and idea of community has remained between projects, the way they've been compiled has been rather different.
Pete explains: 'In those days of course, we had no mobile phones, no emails, no nothing, everybody had to meet in pubs. The big meeting was in the Kings Hotel (in Albert Road, Southsea), opposite the theatre, upstairs in what is now called The Loft.'
The groundwork for the project was laid in 2019, but most of it has been done in 2020.
Pete adds: '60-odd tracks is some going, especially when most of it has been done during Covid. How on earth did we connect all this music and not speak face-to-face with most people? It's been done mostly on email or phone calls.'
Race Car Hearts open the 2020 version. It is the solo project of Chris Perrin, formerly frontman of acclaimed rockers Thirst and currently fronting Curbwire.
'Race Car Hearts was my solo project I started about 10 years ago, and for a while that was my main vehicle to write and perform.
'Eventually I needed a change of scene and put it to one side, but I never fully broke away from it because I thought there might be a time when I'd going back to it.'
Chris was hospitalised in early 2020 after a run-in with pneumonia and pleurisy, and says: 'By the time I recovered and we started rehearsing, we played one Curbwire gig and then Covid came.'
With the band on hold, Chris' friend, writer and musician Tony Rollinson, suggested reviving Race Car Hearts.
'It opened me up to working with new people, and that quickly led to me being involved in South Specific. It was unexpected, there was no big build-up, it all happened over the course of a week.'
Joined by a talented band of Matt Little on keys, drummer Steve Duffy and bassist Stephen Duffield, they put the songs together quickly.
'In just one or two takes we had it down, and that was a new experience for me, having spent most of my time rehearsing songs for weeks – this was a total off-the-cuff, old-school thing.'
Although Chris was too young to have been involved in the original, he knew of it by reputation.
'A lot of those guys I know, and through being part of the Portsmouth music scene, you get to know about things that have happened in the past, even though I wasn't around for it.
'It's an honour to be part of the follow-up and part of that legacy of artists.'
Also on the 2020 version are The Glorias with two tracks of their revved up garage-rock. The band released their second album​​​​​​, The Moral High Ground in May. Bassist Andy 'Nish' Cornish says: 'We put out the second album only on Spotify for now, we wanted to do a CD release for it – but when we can do some actual shows again!
'We thought that the songs were quite relevant to get out now, and this was the easiest way to do it quickly. We had loads of show booked for 2020 – probably the most we've ever had.'
Nish played his first gig around 1982, so missed out on the original album, but knew it and the bands. He says of the 1980 LP: 'I think it's great. It's one of the best compilations around, I think the tracks on it still stand up pretty well.'
So when it came to the new album: 'We saw a thing they put out about Portsmouth bands, so we submitted the songs and they liked them.'
One of their tracks, Gammonati is 'about gammon-faced Tory politicians – the ones that pop up with their greasy spiv-faces.' But it had originally been earmarked for another compilation.
'We asked if we could have it for this one as it's for charity and when the other guy gets around to doing his compilation we'll record another track for him.
'The song was going to be on the album, but the version we did we weren't very happy with, so we rerecorded it. We really like this version we did with the producer Smiley – he used to be in the Mescaleros with Joe Strummer and now he's in The Alarm.'
Pete acknowledges that the compilation has only scratched the surface of Portsmouth's thriving scene.
'It's all about Portsmouth. I really like the idea that there's so much going on. It's just a toe in the water – there's a lot more bands out there...'
'The idea of the future after we're gone and when the water's up like this in Portsmouth,' he gestures horizontally across his face on our video call, 'somebody thinks: "Hey, let's do another LP to reflect what we've done in music."
'But that's not down to me, that's down to someone in the future.'
Maybe that's the next album cover sorted though, with the man on his chair up to his neck in water, right there...
South Specific 2020 is released on Friday, December 4.
The charity side of South Specific
The team behind South Specific 2020 were adamant that there would be a charity element to it.
Brian Poole says: 'It would definitely be a local charity, and a local charity which involved music.'
Clair Wheeler had been invited to join the organising team when someone else had to step down, and she was suggested as an ideal replacement.
She joined the punk band Astral Bodies aged 15 in late 1980, so although they were too late to be on the original, they did play a South Specific-branded gig a few months later. She's since played in numerous bands over the years and been involved in the local scene.
When the South Specific team were having a meeting via Zoom, it was mentioned that they wanted to give the profit from the first pressing to charity – any ideas?
'I thought, obviously Tonic,' says Clair. 'It's music, it's mental health, which is very important right now, and it went from there.'
Last year, Clair joined the Tonic Ska Choir, a project created by the Portsmouth-based music and mental health charity. The choir performed at last summer's Victorious Festival.
Clair says: 'It started in April last year, and I joined in June. It went from strength-to-strength and we ended up with 45-50 people involved.'
And the choir now has a track on the album too – a cover of The Melodians' Sweet Sensation.
'Music is such good therapy, says Clair, 'and that's why Tonic are doing such a great job. They've even carried on their work during lockdown.'
Brian adds: 'We couldn't think of a more deserving cause – it's the perfect fit.'
Who's on South Specific 2020?
1980 album CD1: Attic, Anna Blum, The Chimes, Dance Attack, The Frames, The Nice Boys, Renaldo & the Loaf, Toxicomane.
Extra 'circa 1980' tracks: ADB , The Cartoons, The Media, Rank Charm School, Clair Wheeler, Zebra Zone.2020 CDs 2&3: Acid Attack, Poppy-Joy Cherry-Daniels aka Anna Blume 2020, Curl, The Glorias, Hooch, Jason Webster, JJ Summer, Kid Scaramouche, Kormorant, Louie Snacks, The Media, Muvvas, Paul Groovy & The Pop Art Experience, Patrikk, The Gary 7, Pan Atoms, The Positrons, Race Car Hearts, Renaldo & The Loaf, The Stayawakes, Tonic Ska Choir, Torpedoes, Watch You Drown.
A collage of acts from South Specific 1980
Poppy-Joy Cherry-Daniels, AKA Anna Blume is on South Specific 2020
Renaldo and The Loaf in 1980. They are the only band to be on South Specific 1980 and 2020
The Stayawakes are on South Specific 2020. Picture by Joe Watson
Louie Snacks is on South Specific 2020