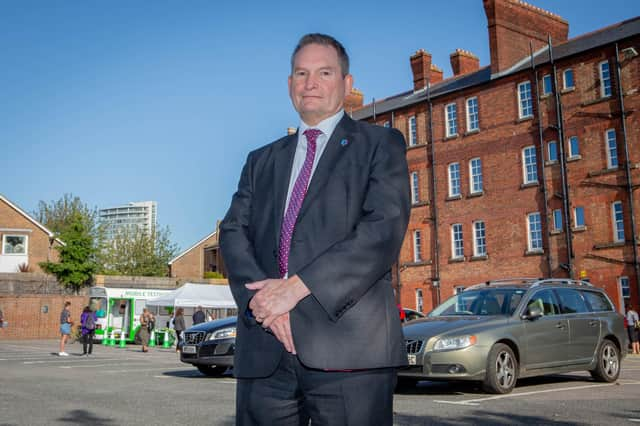 University of Portsmouth vice-chancellor, Professor Graham Galbraith. Picture: Habibur Rahman
Vice-chancellor Professor Graham Galbraith said he had to make the 'right decision' and instead offered a virtual ceremony instead.
Now, after the government announced that coronavirus restrictions will be slowly eased, the university is reconsidering its options.
In an email to students, Professor Galbraith said: 'I am pleased that the government has now provided their roadmap for the coming months. As promised, in light of this, we have reviewed our plans for graduation for 2020 and 2021 graduates and considered what may now be possible.
'I know how important graduation ceremonies are to you, and your loved ones. They are also important to staff at the university.
'I'm pleased to say that we now feel it is possible to plan for in-person graduation ceremonies in July, with ceremonies dedicated to 2020 and 2021 graduates.'
Professor Galbraith added that should government plans change, so will the university's – and stressed the importance of adhering to lockdown guidelines.
Third year student James Carey, who studies geology, says the news will give many students some hope.
He said: 'Graduation is an important event for so many people, so I think a lot of us will be pleased by this announcement.
'To flat-out cancel the graduation ceremonies was probably the wrong decision, because they could have simply been postponed instead.
'Students will just be glad to have that glimour of hope that it could actually go ahead. Nobody is expecting it to be gauranteed, but it's a nice announcement all the same.'
According to Professor Galbraith, a team has already been assembled to figure out the logistics behind hosting two years' worth of graduation ceremonies.
The ceremonies pack out Portsmouth's Guildhall when they take place, though a location for these ceremonies is unknown at this time.
The vice-chancellor added: 'We are also planning to run virtual ceremonies for those graduates who may not be able to, or do not want to, attend graduation here in the city.
'Graduations are large and complex events and there is a lot to do.
'We will keep sharing information with you as soon as we can but I wanted to provide early reassurance that we have listened to your feedback and acted upon it.'
A message from the Editor, Mark Waldron
Our trial offer starts at just £2 a month for the first two months.