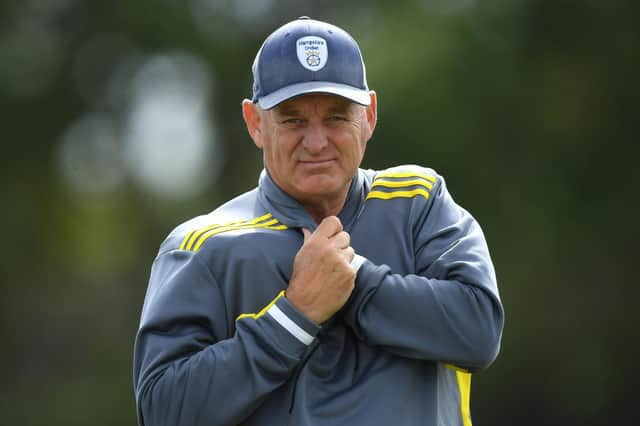 Hampshire first team coach Adrian Birrell. Photo by Alex Davidson/Getty Images.
The first team coach feels he has 'all bases covered' as the county start a 10-game group qualifying campaign in the east Midlands tomorrow.
The top two in each of the three groups will progress to Division 1, and Birrell is adamant that is Hampshire's aim - even though they will have to finish ahead of Somerset and/or Surrey to do so.
'We are ambitious and we will be going out to try and win the Championship,' said Birrell ahead of his third campaign as coach.
'First we have to get out of our group; that will be a challenge but we feel we have a team to challenge.
'We are feeling very confident, but obviously we will have to play good cricket.'
Had a normal two-division Championship been played in 2021, three of the counties in Hampshire's group - Leicestershire, Gloucestershire and Middlesex - would have been in the second tier.
Somerset, runners-up in each of the past three years, and 2018 champions Surrey will start as favourites with most neutrals to qualify for Division 1.
'This is a strong group and we won't be taking anyone lightly,' said Birrell.
'If you want to win the title, you have to beat the best teams.'
Hampshire have not played at Leicestershire in the Championship since 2014, when the hosts were skittled for 96 in their second innings to lose by 278 runs.
That was Hampshire's second big first-class win at Grace Road in a row - the previous year James Vince (147 no) and Liam Dawson (136 no) shared an unbroken third wicket stand of 250 as the visitors won by 180 runs in a single-innings game.
'We didn't know a lot about them (Leicestershire),' said Birrell, 'but we've done our research and our planning.
'We've got a couple of injuries which is unfortunate, but we've got a good squad.'
Birrell added: 'Our bowling attack is strong and varied. There's good seam back-up and a good spin department.
'We've got every base covered there in that respect.
'I would say we're as strong as most in the batting department, we've just got to make the most of the opportunities to put runs on the board.
'It's an experienced side, the players have played with each other for a long time already.
'There's one or two youngsters fighting for a place - Scott Currie, Felix Organ - and Fletcha Middleton and a number of others.'
Seam bowler Keith Barker and batsman Aneurin Donald will miss the first few weeks of the season due to injury.
According to Birrell, both are around 'two to three weeks' away from being in contention.
'We will miss Keith, his stats are outstanding and he's been a good player for a long time,' said the coach.
'His absence gives an opportunity to someone else.'
Mohammad Abbas, who played for Leicestershire in 2018 and 2019, will be the only new signing on show for Hampshire. He will be one of two overseas players along with new ball partner Kyle Abbott.